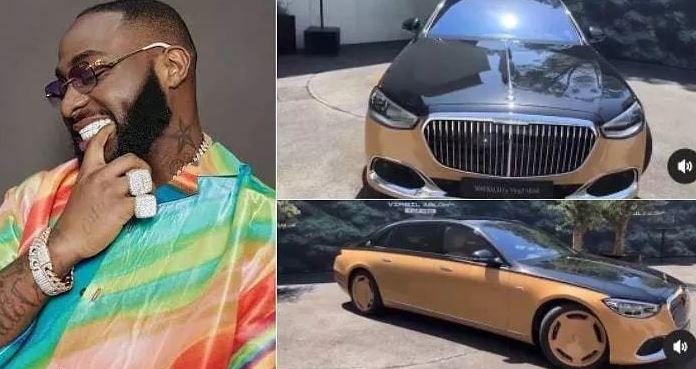 Davido receives his 2023 Mercedes-Maybach worth ₦340M in Lagos [photos]
Davido receives his 2023 Mercedes-Maybach worth ₦340M in Lagos
Davido Adeleke, welcomes home the one-out-of-150 produced 2023 Mercedes–Maybach S680 by Virgil Abloh automobile in Lagos, Nigeria.
The limited-edition automobile, estimated to be valued over 340 million, was designed by Virgil Abloh, who died last year, and Mercedes only made 150 of them.
Davido, however, gifted himself the magnificent off-road two-tone paint job that is similar to the one found on the Project Maybach concept car.
The Mercedes-Maybach S680 must have cost the singer a fortune because it was transported into the country by air, as opposed to his Rolls Royce, which was shipped and took months to arrive.
Sharing the photos, the singer wrote on his Snapchat page, "My baby flew in safe," while tagging the location as Lagos, Nigeria.
It is worth noting that the news of the singer's latest car acquisition was made public by the famous blogger, Tunde Ednut. In an Instagram post, he had exclaimed about the whooping cost of the car and praised the O.B.O for celebrating himself with the gift.
"WOW! WOW!! WOW!!! DAVIDO just bought himself a 2023 MAYBACH VIRGIL ABLOH, which costs $530,000. $530,000 🟰 N394,000,000 STOP PLAYING!!!
"Only 150 of these were made, and he bought one of them for a whooping N394,000,000, excluding shipping and clearing in Nigeria. Eiiiiiiiiiiiii God Oooooooo!!!" Ednut wrote.
Aside from his latest garage upgrade, Davido is known to be a lover of expensive cars and he has them in ranges, including Bentley Bentayga, Rolls Royce Cullinan, Lamborghini Huracán, 2021 Rolls Royce Cullinan, and others from way back. He also has the common luxury cars in the likes of Range Rover Sport, Mercedes-AMG GLS63, and many others.
For More Celebrity News Click Here
Davido receives his 2023 Mercedes-Maybach worth ₦340M in Lagos