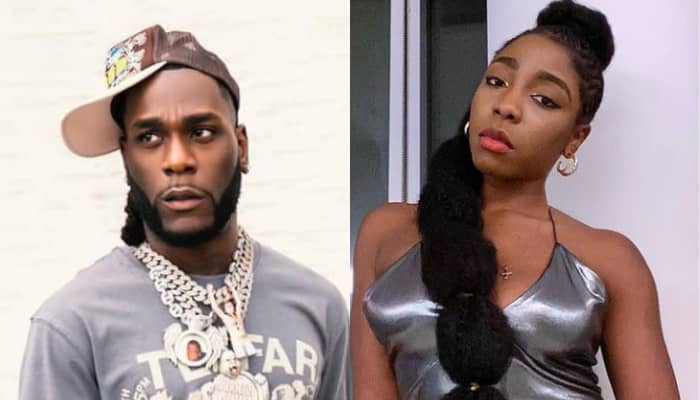 Burna Boy' sister reacts to Davido's 'new cat' statement
Burna Boy' sister reacts to Davido's 'new cat' statement
Nissi Ogulu reacts after Davido called Burna Boy a 'new cat'.
Nigerian Twitter was agog on June 8 after Davido listed Burna Boy as a 'new cat' during an interview with a French publication.
Burna Boy' sister reacts to Davido's 'new cat' statement
The video was posted on Twitter by an influencer and it quickly divided opinion as fans of both artists vehemently disagreed on the accuracy of the classification.
In the interview, Davido stated that he and Wizkid were undoubtedly the first artists to blow out of Nigeria and take the music to an international audience. He then went further to list some new talents whom he described as new cats who are taking Afrobeats to a global audience.
He mentioned Rema, Fireboy, Mayorkun, and Asake as new cats while also including Burna Boy on the list.
"Wizkid and I were the first young artistes to blow up and it feels good seeing new cats like Burna Boy, Rema, Fireboy, Mayorkun and Asake kllling it now"

– Davido pic.twitter.com/qBf5SnKg3n

— BASITO (@itzbasito) June 8, 2023
Burna Boy's younger sister Nissi, who is also a musician, has reacted to Davido's statement with a video on her Instagram story.
She posted a video of her dancing at Burna Boy's recent performance at his historic London Stadium concert that had 60,000 fans in attendance. She captioned the video, "New cats are facing their hustle."
Davido's statement has since attracted massive reaction across social media as some people agreed with the classification, citing 2018 and YE as the beginning of Burna Boy's stardom.
On the opposing side are people who disagreed, citing Burna Boy's early success with his 2012 hit single Like To Party as evidence that he can't be classified as a new cat.
For More Celebrity News Click Here