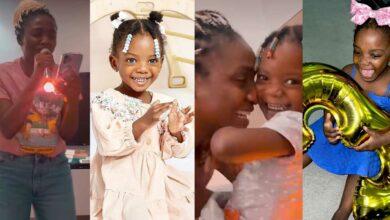 "She is just like her mother– Deja, Simi's 3-year-old daughter wins singing challenge with melodious voice
"She is just like her mother– Deja Simi's 3-year-old daughter wins singing challenge with melodious voice
Adejare, Simi's three-year-old daughter, outshone netizens after beating her mother in a singing challenge at home.
Simi posted the intriguing video as she began a music challenge in her house with her three-year-old daughter, Deja.
Simi is married to Adekunle Gold, a well-known Nigerian artist.
Simi's current song, "Stranger," sparked the challenge, and the video showed the singer going around her house attempting to persuade people to sing.
While Simi's mother and the other adults in the house struggled to keep the note, Deja sang effortlessly, winning the challenge according to the singer's fans.
Fans were ecstatic to see the young girl's talent, and several remarked on how adorable she looked.
As the daughter of two talented musicians, it's no surprise that Deja is already showing signs of musical talent.
ifeoyediran_studios said: "Deja hitting that right key like it's nothing."
ay_onair said: "Deja aka THE VOICE!!!"
awoniyiadebunmi commented:"Music is living inside Deja."
kemiajumobi said:"I somehow had a feeling your daughter was going to hit that note."
a_m.o.n.i.l.o.l.a reacted:"But fr?! This song has a very high pitch! I was like wow! my voice wan crack . Simi after you, it's you again ooo."
royaletemi commented: "Deja showing us she was in the studio recording this song with you."
quinn_kayh reacted: "If I got it from mama is a person deja hit the right key."
a.d.e.j.o.k.e1 said: "I no go gree mummy dey eat now."
See the video below:
For More Celebrity News Click Here