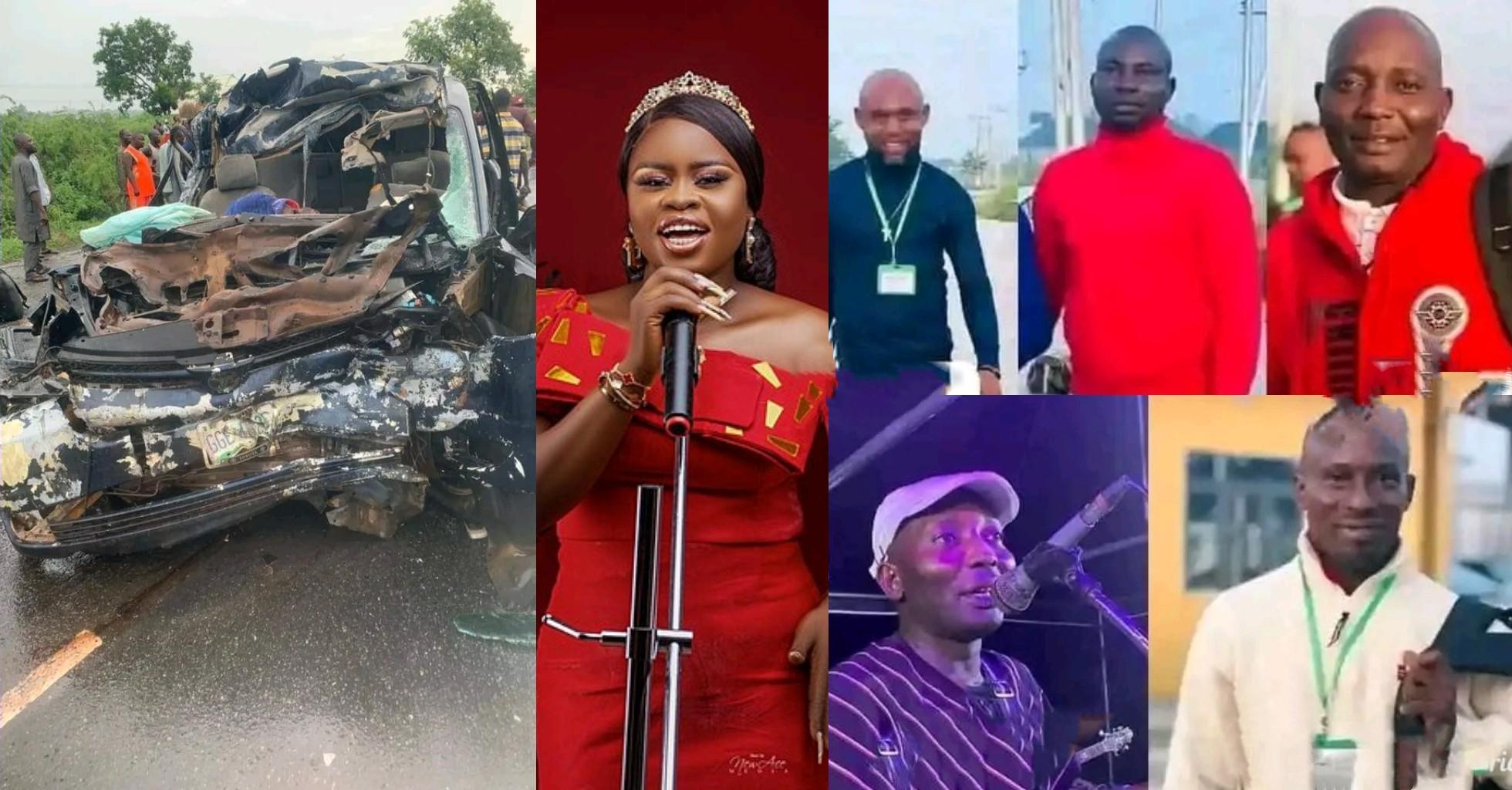 Delta Queen Of Highlife Music And 5 Members of Prominent Ijaw Musical Band Die in Ghastly Accident
Delta Queen Of Highlife Music And 5 Members of Prominent Ijaw Musical Band Die in Ghastly Accident
Ikesima Brown, famously known as the Niger Delta Queen of Highlife Music, was killed in a car accident
Ikesima, along with six other band members of Ijaw music great, Chief Barrister Smooth, were reportedly killed when their bus collided with a petrol tanker on the Abuja/Lokoja expressway and Kwale community in Delta State.
The car accident happened on Sunday, June 11, when the band members were driving from Warri to Abuja for a gig.
According to reports, the ill-fated van transporting the popular band was hired by a state government to play at the National Assembly members' swearing-in event in Abuja on Tuesday.
An eyewitness who narrated the ghastly accident said the band members boarded a train from Warri to Kogi and were on their way to Abuja when the Toyota Siena car in which they were travelling had a collision with a fuel tanker, killing them at the accident spot.
The names of the deceased were given as Chief Joseph Ekeremieye, Ikesima Brown, Ebis Awiki, Tuku, and others.
The Bayelsa State Governor, Douye Diri, in a statement by his Chief Press Secretary, Daniel Alabrah, on Monday, expressed deep sadness over the twin accidents that claimed the lives of no few than 10 Ijaw indigenes.
Diri described the sad incident as a Black Sunday for Bayelsa and the Ijaw nation, stressing that the state has been thrown into mourning.
The Bayelsa governor also commiserated with the deceased families and Barrister Smooth adding that the death of the young youths actively impacting lives through their musical talent is a great loss to the state.
He said, "In one of the crashes along the Kogi-Abuja Road, six band members of a popular Ijaw musician, Barrister Smooth, died while the other accident along the Kwale-Asaba highway in Delta State claimed four supporters of the Bayelsa Queens Football Club
"On behalf of the government and people of Bayelsa State, I extend our deepest sympathies to the families of the deceased.
"I also commiserate with the leader of the band, Barrister Smooth.
"These are very unfortunate and sad incidents that claimed the lives of our active youths.
"It is a great loss to our state and the Ijaw nation as young talents and bread winners following their passion had suddenly departed.
"I pray that the Lord consoles the families for the painful loss that they have suffered.
I also pray for quick healing and recovery for those that were injured"
For More Celebrity News Click Here
Delta Queen Of Highlife Music And 5 Members of Prominent Ijaw Musical Band Die in Ghastly Accident