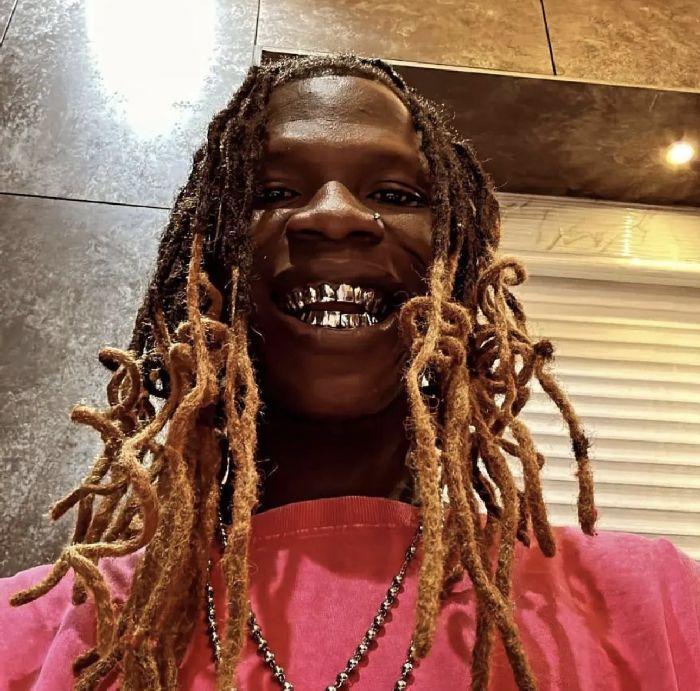 Seyi Vibez settles into his glory in 'Thy Kingdom Come'
While confidence and momentum have led him to release 4 projects in the space of 8 months, Seyi Vibez sounds most sure-footed and unshakable in his talent with his latest album.
Released just one week after he shocked listeners with 'Vibe Till Thy Kingdom Come' (VTTKC)', Seyi Vibes returned with another surprise album as he announces the arrival of the kingdom he promised his ever-expanding fan base.
The preceding album was a project that helps in to find balance that propels his music and brand after gaining fame from comparisons to Asake who light up the soundscape with the Amapiano, Hip Hop, and Fuji fusion.
With 'Thy Kingdom Come' Seyi Vibes further pushed the boundary of his talent through an album that sees him explore Apala at a whole new level.
Determined to be more than just a worthy contender, Seyi Vibez sought to establish his brand as one not limited nor governed by the rules of the mainstream, and he showcases this through the music and the almost spontaneous nature of his releases.
'Thy Kingdom Come' offers an artistically confident and mature Seyi Vibez who declares himself the man of the year while also pointedly making it clear that the sky was big enough thus indicating his intention to move past the rivalry that helped launched him to mainstream fame.
Across 10 tracks, SV enjoyed chest-thumping moments while offering a share of his success to family, friends, and fans through the eulogy, a good time, and an elevated listening experience.
Having found success through a style that still holds the mainstream in a chokehold, Seyi Vibez celebrates his success through chest-thumping moments while pointedly documenting achievements in a very Fuji-esque manner.
He talks about enjoying the company of different women while also vindicating his now lascivious lifestyle in a manner reminiscent of Fuji artists. He celebrates bringing pride to his family while also eulogizing his late mother in a moment of vulnerability hidden behind log drums and swaggering flows.
His style, technique, and flow scheme lean deeply into his indigenous roots as he weaves Apala and Fuji melodies on Amapiano.
His technique in the jaunting Amapiano record 'Professor' is a pop variant of his Fuji interlude in 'VTTKC' where he made a Hybrid of Fuji maestros Pasuma, Remi Aluko, and Malaika.
His call and response in the infectiously melodious 'Hushpuppi' is a highlight of his Apala leanings.
The drum pattern, flow scheme, and arrangement of the speaker-rattling 'Migos' is straight out of the Fuji playbook as he similarly deploys the vulgarity of Fuji acts while extolling his abilities in a similar fashion.
His blend of Amapiano and Apala in 'Trumpet' comes together to deliver an incredible record that brings jarring street energy into the mainstream in what remains a distinguishing factor in his music.
Despite gaining fame and enjoying the level of success most artists can only wish for, Seyi Vibez clutches his street influences close to his chest even revealing the not-so-glamorous parts. In 'VTTKC' he talks about being addicted to his laptop and in 'Thy Kingdom Come' he talks about the IRS and tax returns, there are no prices for correctly guessing what this is about.
Sonically, his vocals manipulations and arrangement still lean toward familiar street music, and after 4 projects it's clear this is a core part of his music
His religious influences shine as he interpolates Arabic words like in 'HushPuppi' while also pointedly referring to himself as a child of God.
However, the element that shines most on 'TKC' is his Apala Influence which underlines every track even the Pop and Swing records, and which suggests Seyi Vibez has decided to settle into his cadences to drive his career. He appears to already understand that after 2 Albums and an EP, listeners have already made up their minds about his music and it was pointless trying to readjust by infusing refined elements to bring reluctant listeners into the fold.
However, while he appears to have made up his mind to underline his music with Apala, this shouldn't be mistaken for a decision to step away from the mainstream and focus on the side of the streets from where he emerged. Seyi Vibe still delivers a South Eastern record 'Highlife' on which he features the biggest Igbo mainstream artist of the last decade. He also taps South Africans Ami Faku and hit producer Caltonic as he aims to connect with listeners beyond his base.
While his writing is a combination of street parlance and Yoruba, his rich musicality shines through his interpolations. Whether he was aspiring to the billionaire status of Dantata, Dangote, and Otedola or he was declaring himself World Champion like Messi or name dropping World beating Grammy-winner Burna Boy, Fuji legend Ayinde Marshall, and interpolating the lines from Mafikizolo and Bob Marley, Seyi Vibez's influences extend beyond music and he adopts the free expressions of Fuji artists to showcase his depth.
With 'Thy Kingdom Come', Seyi Vibez thumps his chest while maintaining a resolution to make music that retains the core elements of his identity. The result is an album that achieves a musical depth that surpasses his previous efforts.
After releasing 4 projects in 8 months, Seyi Vibez continues to elevate his artistry through a breathtaking synergy with his talented producer Yo Dips.
Two albums released two weeks apart are shocking from a Nigerian mainstream act and surprising for the listeners whose attention he still retains. This is however not surprising in the international market where artists like Future, Drake, and NBA Youngboy release full-length projects in close sequences.
Nevertheless, we must retain context and this requires appreciating the fact that the Nigerian music industry still lacks the streaming market for such releases, especially when the industry is in a bull market services increasingly spent consumers.
This writer thinks it's time for Seyi Vibez to take a breather and bask in his glory.
• 4.0-5.9: Average
Afrobeatsglobal Rating: /10
Songwriting, Themes, and Delivery: 1.7/2