Joeboy stopped from performing in Saint Luca over use of cuss word on stage
Joeboy stopped from performing in Saint Luca over use of cuss word on stage
He asserted that neither he nor his crew were aware of any legislation in the nation that forbade the use of such words while performing.
Joeboy stopped from performing in Saint Luca over use of cuss word on stage
Popular Nigerian artist Joseph Akinfenwa Donus, better known as Joeboy, recently shared a startling incident in which he nearly faced arrest and was unable to perform in Saint Lucia.
The talented singer, known for his hit song "Alcohol," was scheduled to entertain at an event in the Eastern Caribbean island nation. However, his performance was abruptly cancelled during the show.
In a post on his Instagram Story, Joeboy revealed that he was prevented from performing due to the use of explicit language by his disc jockey. Neither he nor his team had prior knowledge of a law in the country that prohibited such language during performances.
"Saint Lucia, I travelled over 40 hours to be with you, and I was super excited to perform here for the first time. I couldn't perform today due to issues with the organisers." I tried my best to give you the best performance today, but my set was cut off and my DJ was taken off stage. My DJ was taken off stage because he said, 'Make some f*cking noise'. We were not given any memo that we couldn't use any curse words on stage," he wrote.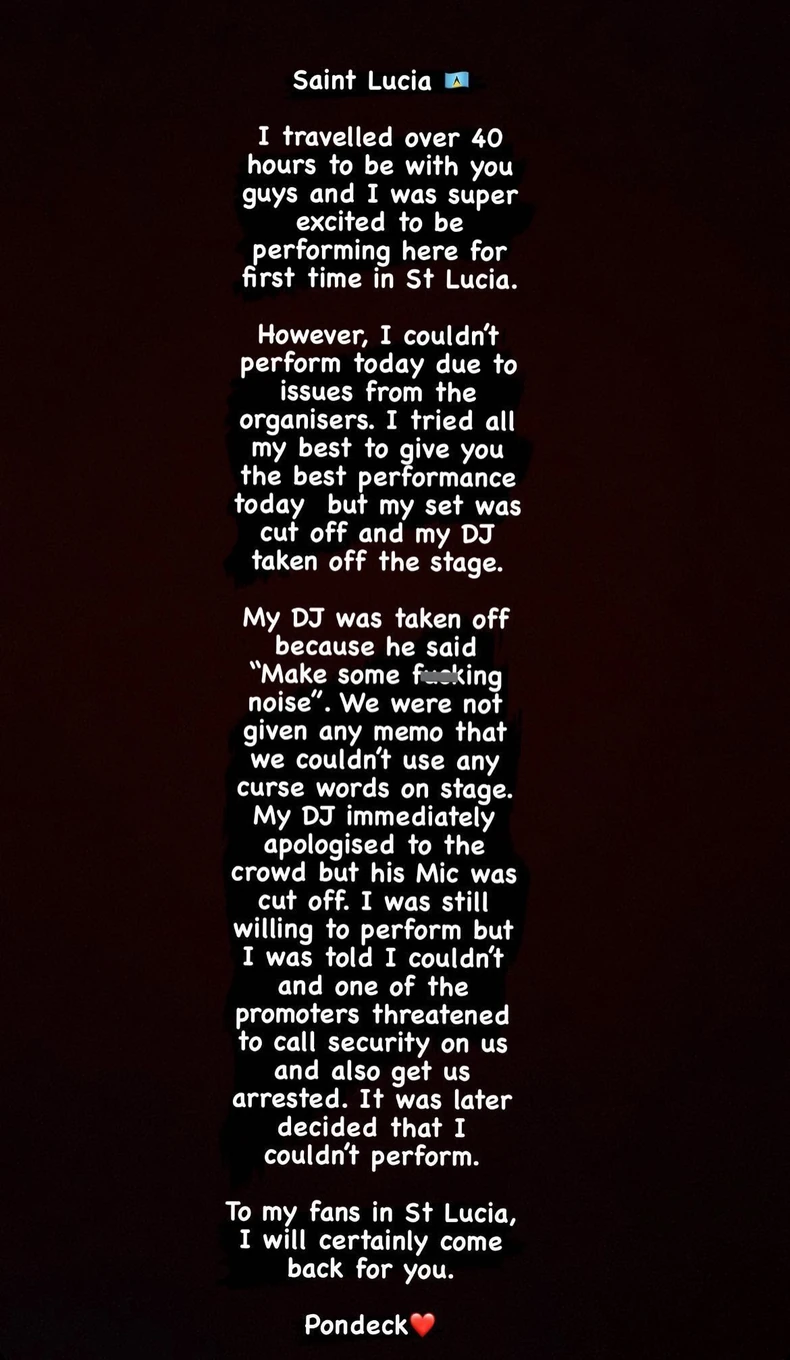 Joeboy is a popular Nigerian singer and songwriter. He gained widespread recognition and acclaim in the Nigerian music industry with his breakout single 'Baby' in 2019, which became a massive hit and catapulted him to fame.
He developed a passion for music at a young age. Joeboy started his musical journey by singing in his church choir and participating in various talent shows. In 2017, he caught the attention of Nigerian record producer E. Kelly, who later introduced him to Mr. Eazi, a prominent Nigerian artist and the founder of emPawa Africa, an initiative that supports emerging African talent.
For More Celebrity News Click Here