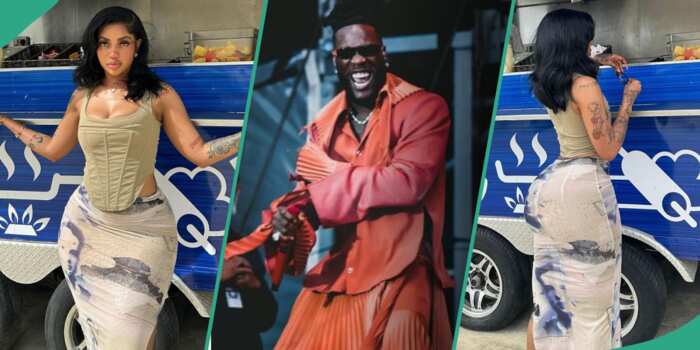 Jamaican singer, Jada Kingdom, blatantly denies dating Burna Boy after he allegedly gifted her 7 Birkin bags
Jamaican singer Jada Kingdom blatantly denies dating Burna Boy after he allegedly gifted her 7 Birkin bags
Jada Ashanti Murphy, also known as Jada Kingdom, a popular Jamaican singer, has denied rumors that she is dating Nigerian music star Burna Boy.
In one of his most recent featured songs, the Afrobeats Superstar revealed how he lavished Jada Kingdom with gifts.
Burna Boy spoke about his love for Jamaican ladies and why he believes they have the best "pum pum" in the song.
The singer also revealed that when he gave the Jamaican model a Birkin bag, it caused a stir online, with people complaining that it was too much for a new relationship.
He mentioned in the track that he went back and got six more Birkin bags for Jada to quiet people down.
In the remix of Byron Messia's hit track "Talibans," The Odogwu crooner was heard singing:
"Ah di best p#m p#m deh ah Kingston, so me buy ah Birkin for Jada Kingdom… me too rich now, so me buy six more"
In what appeared to be confirmation of this claim, Jada posted a video on TikTok displaying designer bags.
During a recent interview, Jada was asked about the rumors that she and the self-proclaimed African Giant are dating.
In response, Jada distanced herself from the dating rumors, stating that she had never heard of such claims from anyone else.
The interviewer then informed her that Burna had written a song about her, and she said she would listen to it later.
For More Celebrity News Click Here
Jamaican singer Jada Kingdom blatantly denies dating Burna Boy after he allegedly gifted her 7 Birkin bags