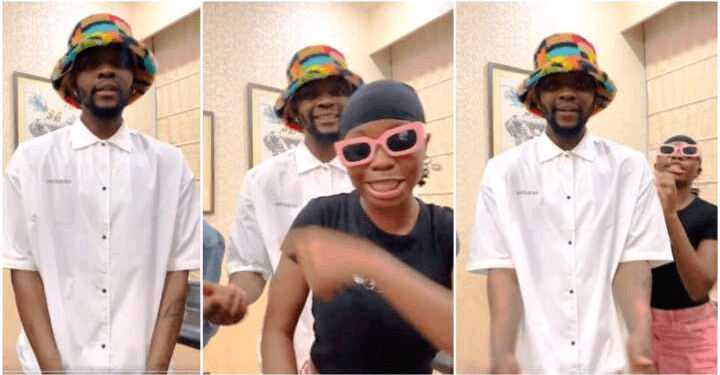 Fans Concerned about Kizz Daniel's Appearance In New Video With Taaooma
Fans Concerned about Kizz Daniel's Appearance In New Video With Taaooma
Taaooma and her friend were visibly excited and couldn't stop dancing to the catchy music with the Fly Boy Inc label owner in the video.
Taaooma exhibited her twerking skills in an exhilarating and daring moment, regretting the camera's inability to effectively capture her unique dancing movements.
One of the most popular tracks on Kizz Daniel's new album, Maverick, is "My G."
Fans flocked Taaooma's Twitter page to share their reactions, with numerous expressing genuine concern for Kizz Daniel's health.
Reacting to the post;
@chimgomx wrote: I saw it,dey play.
@SegunBamgbose5 wrote: You go explain tire
@iamskamal wrote: kizz don lean o, abi na my eyes
@haythimzy: Ariwo dè pó , you need to stop this hay thimzy
@KLEVERJARRET wrote: Kizz is looking unhealthy Abi na my eye
@callmi_Ebuka wrote: Why kizz be like who Dey sick for here
@GsLibaty
@boiconfixx: My kiss lean like this……hope all is well my guyamal.
@iamskamal wrote: Small yansh dey shake oo.
@Ariwo dè pó wrote:  you need to stop this.
Kizz Daniel's new album recently got social media users buzzing with reactions and his recent Instagram upload left fans in awe.
The singer whose Maverick album continues to trend online, shared a beautiful video with his twin sons as he opened up about one of the songs which featured the boys.
In the video, we see montages of the singer and the boys spending some fun times together. In the caption, he opened up about how the song came about.
He wrote:
"They casually strolled into my studio and asked to record a song with daddy, and we made a classic together I love you boys"
Kizz also took to his official timeline to share the tracklists of his new album, which contains 20 tracks.
Some songs on Kizz Daniel's Maverick album include Red & Green, My G, Flex, Cough, Show You Off, Shuperu, Buga, Feran You Two, Feran Mi, among others.
Fans Concerned about Kizz Daniel's Appearance In New Video With Taaooma
For More Celebrity news click here