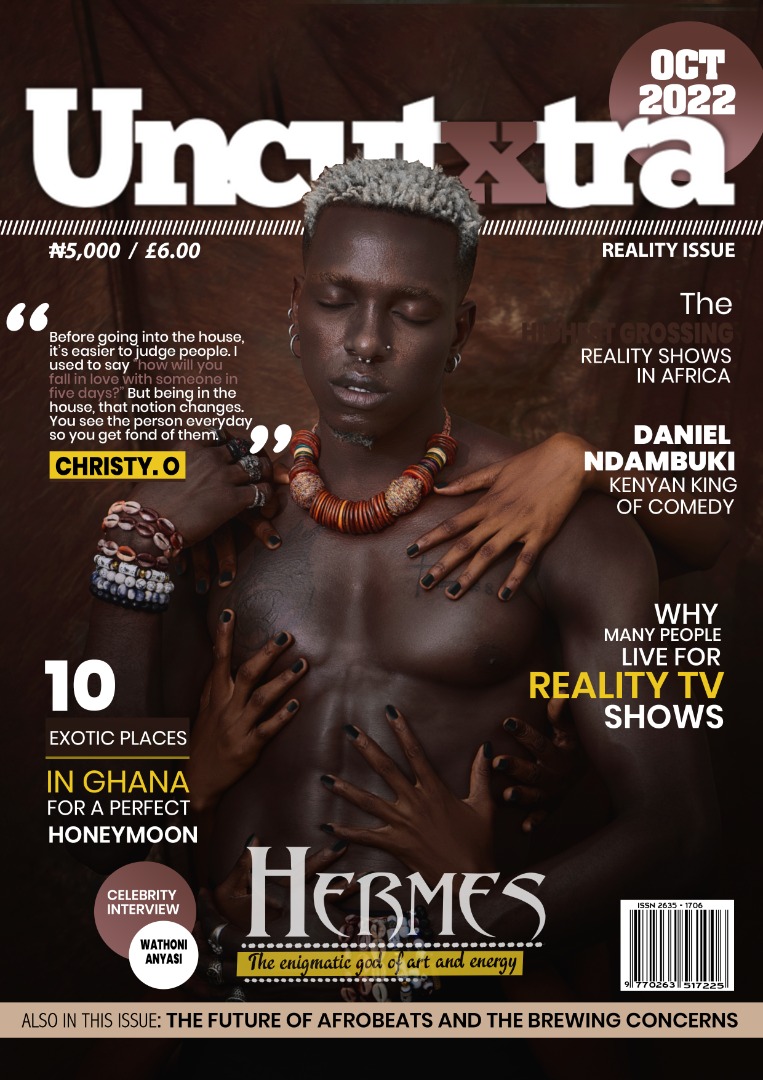 Uncutxtra Magazine Releases 10th Edition With Hermes As Cover Star
After weeks of anticipation, it is finally here. The 10th Edition of the Uncutxtra Magazine has been released and guess who the cover star is – Hermes 🔥🔥
The abilities to live one's truth unapologetically, to explore freedom, to rise beyond all hardships and to give the world a show are impeccable attributes a superstar should possess.
These are the reasons why Uncutxtra magazine chose The enigmatic god of art and energy, Hermes Chibueze Iyele, as the cover start of the BIG 10th edition themed 'The Reality TV' edition.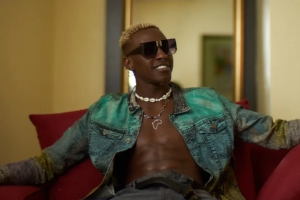 Here, Hermes takes a deep dive into discussing his tough struggles while in the pursuit of survival for himself and his community. He also discusses his peculiar orientation, his family, how the Big Brother reality show transformed his life and the amazing projects that he's currently working on.
This October edition also features educative, informative and entertaining articles including interviews with some of the successful individuals at the fore- front of Entertainment. Among is the biggest Kenyan Comedian; Daniel Churchill Ndambuki, Winners of the SouthAfrican Love Island Reality show; Libho Geza and Thimna Shooto, Ex Big Brother Housemate (Lockdown season), Wathoni Anyansi and many other exceptional Individuals.
For the reality enthusiasts out there, find out The Highest Grossing Reality Shows in Africa and Why Many People Live For Reality Shows. We also curated the Top 10 Exciying Reality TV Shows To Kill Boredom. You're welcome!
Amazing holiday destinations, exclusive interviews, educational contents, and more, are what to expect from the reality edition.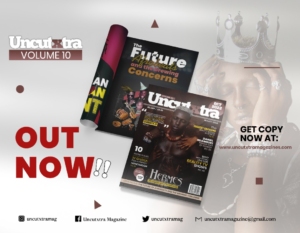 Trust me, there's no better way to end the year than with a copy of the 10th edition of Uncutxtra magazine.
But how do I get one?
It's alright. We've got you covered. Grab a copy of the Uncutxtra magazine Volume 10 here. You can also visit www.uncutxtra magazines.com
Paying via Direct Payment?
Pay into:
Account Name: CREATRIX EMPIRE INT'L LIMITED
Bank Name: Zenith Bank
Account Number: 1017704790
After payment, please send a payment receipt screenshot to our DM or uncutxtramagazine@gmail.com or WhatsApp line on +234 (0) 803 480 4897 to claim your copy of the magazine. We deliver nationwide.
Kidos to the amazing team at Creatrix Empire for making this a reality.
Credits:
Photographer: @akinkorede.studios Stylist: @movafashionhubbackup
Editorial team:
CEO: Emmanuel Alade
Operations Manager: Samuel Oloruntoba
Administrative manager: Adebunmi OlatunjiEditor in Chief: Nelson Okoh
Writers:
Michelle Mojisola Savage
Oluwakoya Maverick
Nelson Okoh Sorana Cristecu
Interviewers:
Omobolanle Adigun Chioma Ezeh
Graphics: Samuel Emeka
Videographer: David Obisesan
Digital Circulation Manager: Ifeoluwa Ojo
To read about all these and more, grab a copy of the Uncutxtra magazine Volume 10 below
View this post on Instagram