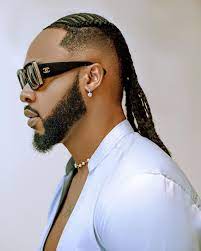 Flavour reacts as lady reveals her fears about falling in love with an Igbo man
Flavour reacts as lady reveals her fears about falling in love with an Igbo man
Flavour, a Nigerian singer, has responded to a woman who revealed her fears about falling in love with an Igbo man.
The superstar singer had shared a video of himself in an unusual outfit, and a female fan had expressed her concern about his tr!be of people in the comments section.
She expressed her desire to fall in love with an Igbo man, but she is concerned about their distinctive dress.
Her concerns appear to be justified, as Kcee, E-Money, White Money, Timaya, and now Flavour have all raised eyebrows with their questionable fashion choices.
"I want to fall in love with an Igbo man but I'm so scared that one day he can just come out of the room dressed like this and he'd be so serious", she commented.
Flavour assured the lady that she would be fine.
"You'll be fine".
For More Celebrity News Click Here
Flavour reacts as lady reveals her fears about falling in love with an Igbo man