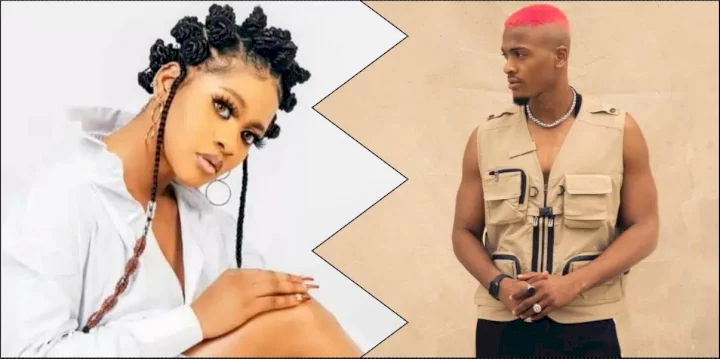 BBNaija S7 – Groovy Breaks Up With Phyna Over Excessive Drinking (Video)
It's official! The Groophy ship that has been sailing steadily for the past couple of weeks has sunk.
The couple agreed to take a break, following a discussion about a couple of issues between them. Groovy had confronted Phyna about her drinking habit, which he believed was getting excessive. According to him, the same habit led to the disqualification of his former love interest in the house, Beauty.
Well, Phyna also made her recent observations on Groovy known. This was prompted by her earlier conversation with Daniella. Groovy had once confessed to Daniella that he didn't like Phyna and that she was forcing their relationship.
Also read: BBNaija S7 – "You're sick and don't listen to instructions" Sheggz Insults Bella
Daniella revealed the secret to Phyna, and this caused her to take a step back to analyze his behavior towards her. Later, she accused him of change in attitude but he denied it.
The decision to break up came after Phyna got drunk before their Guinness game.
Groovy said, "If you want to drink as you like, then there is no point in us continuing this relationship".
Phyna: "You are breaking up with me."
Groovy: "I am not breaking up with you. I am telling you we need space."
But Phyna explained that there was hardly any difference between both actions. Watch the clips below.
View this post on Instagram
Phyna: You are breaking up with me

Groovy: I am not breaking up with you I am telling you we need space

Groovy and Phyna this morning #BBNaija #Bbngossipblog pic.twitter.com/IRL2canZGp

— Bbngossipblog (@Bbn_gossip_blog) September 3, 2022