Azul '22 – Ycee & Costa Titch feat. Phantom Steeze & Ma Gang (Listen + Lyrics)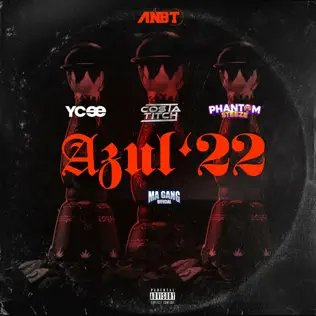 LISTEN BELOW
FULL LYRICS
[Intro]
Yeah
Yeah
Yeah Yeah
Cho Cho Cho Cho
Cho Cho Cho Cho Cho Cho
Cho Cho Cho Cho
Cho Cho Cho Cho Cho Cho
Cho Cho Cho Cho
Cho Cho Cho Cho Cho Cho
Cho Cho Cho Cho
Cho Cho Cho Cho Cho Cho
Chorus
Cho Cho Cho Cho
Cho Cho Cho Cho Cho Cho (who order Azul?)
Cho Cho Cho Cho
Cho Cho Cho Cho Cho Cho (who order Azul?)
Cho Cho Cho Cho
Cho Cho Cho Cho Cho Cho (who order Azul?)
Cho Cho Cho Cho (is it you or you or you?)
Refrain
Biza umama wakhe (ke ke)
Biza ubaba wakhe (ke ke)
Biza u sisi wahke (ke)
Biza u bhuti wakhe (ke ke)
Biza u mtwanakhe (ke)
Ba jiva hooray (hoo hooray)
Hooray (hoo hooray)
Ba jiva hooray (hoo hooray)
Hooray (hoo hooray)
Biza umama wakhe (ke ke)
Biza ubaba wakhe (ke ke)
Biza u bhuti wakhe(ke)
Biza u sisi wahke (ke ke)
Biza u mtwanakhe (ke)
Ba jiva hooray (hoo hooray)
Hooray (hoo hooray)
Ba jiva hooray (hoo hooray)
Hooray (hoo hooray)
Pre-Chorus
Yeah Yeah
2022 (yeah yeah yeah)
Who order Azul? (yeah yeah yeah)
Who order Azul? (yeah yeah)
Is it you or you or you? (yeah yeah yeah)
2022 (yeah yeah yeah)
Who order Azul? (yeah yeah yeah)
Who order Azul? (yeah yeah)
Is it you or you or you? (yeah yeah yeah)
Chorus
Cho Cho Cho Cho
Cho Cho Cho Cho Cho Cho (who order Azul?)
Cho Cho Cho Cho
Cho Cho Cho Cho Cho Cho (who order Azul?)
Cho Cho Cho Cho
Cho Cho Cho Cho Cho Cho (who order Azul?)
Cho Cho Cho Cho (ZU ZU ZU ZU)
Cho Cho Cho Cho Cho Cho (who order Azul?)
Verse
Yo sip that 1942
Real talk mehn, na who order Azul?
High off that "you know who"
2 Live Crew, but you know I'm really new school
Shawty really loving my cruise, she no wan snooze
She just really wanna get loose
Shawty finna drown in my booze
Nigga like me, got lines in my head – ZaZoo!
Mehn I sip the shit and get lighter
Sneakdiss and diss, you're no fighter
Girl gon love me but I won't wife her
She just suck me off, I won't pipe her
Man wanna walk in my shoes
Say they want war but they really can't do it
Chop turkey na
Sip tequila ge ge
Costa Ma Pa Mi na ha!
Pre-Chorus
2022 (yeah yeah yeah)
Who order Azul? (yeah yeah yeah)
Who order Azul? (yeah yeah)
Is it you or you or you? (yeah yeah yeah)
2022 (yeah yeah yeah)
Who order Azul? (yeah yeah yeah)
Who order Azul? (yeah yeah)
Is it you or you or you? (yeah yeah yeah)
Chorus
Cho Cho Cho Cho
Cho Cho Cho Cho Cho Cho (who order Azul?)
Cho Cho Cho Cho
Cho Cho Cho Cho Cho Cho (who order Azul?)
Cho Cho Cho Cho
Cho Cho Cho Cho Cho Cho (who order Azul?)
Cho Cho Cho Cho
Cho Cho Cho Cho Cho Cho (who order Azul?)
Also read: "Bad Boy" – Oxlade ft Mayorkun (Listen + Lyrics)