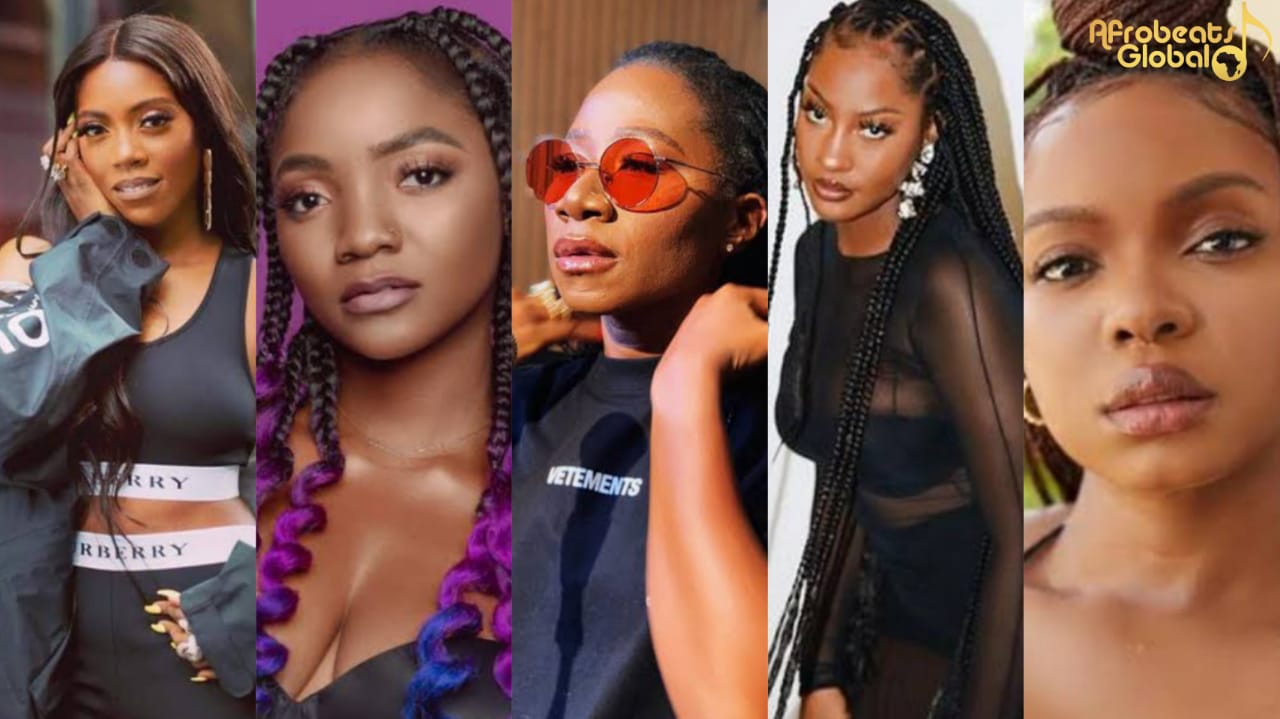 Top 5 Female Nigerian Artistes Currently Dominating The Music Industry (SEE DETAILS)
Tiwa Savage
On the top of this list is the Queen of Afrobeats herself, Tiwa Savage. Whenever there's a list of top musicians in Nigeria, and Africa at large, trust Tiwa Savage to be in it. Her successful break through into the male dominated Afrobeats Industry, has opened the door for more female artistes. Her success in the industry, as she continually goes head to head with her male colleagues, has been an inspiration to up and coming female artistes, who also want to dominate the Afrobeats music scene.
Before joining the Nigerian Music Industry, Tiwa Savage was a backup vocalist for artistes like Mary J. Blige, Beyonce, George Michael, Kelly Clarkson, Chacha Khan and others.
In 2013, she released her debut album, "Once Upon A Time", under Don Jazzy's Mavin Records. This album introduced her to fans of Afrobeats and she was widely accepted.
Ever since, she has gone on to release many albums and EPs, and has established herself as one of the most successful artistes in Africa. Tiwa Savage is the first female artiste to win "Best African Act" at the 2018 MTV Europe Music Awards. She also has several nominations and awards under her belt, mostly from BET Award, MTV, Headies, Vodafone, Soundcity and more.
In 2019, she left Mavin Records and signed a new deal with "Universal Music Group". The soul and Afropop singer, is also one of the most endorsed artistes in Africa with many endorsements from companies like MTN, GLO, Pepsi, Forte Oil, Maggi and more. With her Pepsi endorsement deal, she became the "First Artiste" to be endorsed by the brand. She is also a philanthropist who is involved in many charities and youth empowerment programmes.
Of course,  the "No. 1 African Bad Gyal" deserves the No.1 position on this list.
Tems
Surprised right? Don't be. Ever since Temilade Openiyi, popularly known as Tems, joined the Nigerian Music industry, her progress has been tremendous. She has set and broken many records and cemented her name as a talented artiste, both locally and internationally. This reason, above all, is why Tems is No.2 on this list.
The Afrobeats alté R&B singer, came into limelight with "Mr. Rebel', which she also produced. With this debut song, Tems emerged as the winner of "The Future Awards Africa Prize for Music", and also got nominated for two "Headies" awards.
After that, she released a new single, "Try me", which gained wild popularity in the hearts of music lovers and topped charts. In 2020, she released "Damages", a single from her self produced EP, "For Broken Ears", which moved her career further, as a certified Nigerian Artiste.
With "Essence", Tems became a household name both locally and internationally. Her feature in the record breaking song earned her an international presence. Of course, she deserved it. Her unique voice, which is both soft and strong at the same time, became a resounding joy in the hearts of her fans worldwide.
Since then, Tems has continued to leap in huge strides. Now, she has just made history as not only the first Nigerian artiste, but also the first artiste in Africa, to debut at No. 1 in Billboard Hot 100, with her feature on Future's "Wait For U".
Tems is definitely an artiste that has come to dominate, and we are here for her. Tiwa Savage better watch her crown.
Asa
Without Asa on this list, it would be incomplete. Why, you ask? Although, she is not currently trending in the Afrobeats scene, the marks Asa has etched in the music industry, both locally and internationally, can never be erased.
Bukola Elemide, popularly known as Asa, is a multi talented Nigerian-French singer, songwriter and instrumentalist. With an estimated net worth of $28 million, Asa is the richest artiste on this list, and one of the richest in Africa.
Asa came into limelight with her first single, "Eye Adaba", which was well received by Nigerians. After that, she went back to France to study Music, but was so great and talented that, she was advised by her teachers to go ahead and become a recording artiste, because she was ready. Isn't that amazing?
Back in Nigeria, Asa partnered with the likes of Cobhams Asuquo, Benjamin Constant and Christophe Dupuoy, to produce her first Album, "Asa". The self-titled Album received so much attention worldwide, that it went Platinum and won her a "French Constantin Award".
Since then, Asa has gone on to release five more albums, which have made her one of the best-selling Nigerian singers ever. Her new album, "V", is currently enjoying millions of streams and airplay. She also has many awards and nominations under her belt. Her style of music, which is different from other Nigerian artistes, is what has continued to captivate her fans worldwide.
Yemi Alade
No. 4 on this least is the self proclaimed "King of Queens". She has been singing from a very young age, but came into limelight in 2009, when she won the "Peak Talent Show". After that, she signed to "Effyzzie Music Group" and released "Johnny", which became a national anthem.
In 2014, she released her debut album, "King of Queens", which was nominated for the Album of the year at the "2015 Headies Awards" and the "2015 Nigerian Entertainment Awards". The next year, her second album, "Mama Africa", won the World beat album, in the "2016 Independent Music Awards".
Her energy on stage whenever she performs is unmatched, and this has earned her two "Headies Awards" for "Best Performer", making her the first artiste ever, to win that category, since it was newly introduced.
One of the most impressive things about her music is language versatility. Yemi Alade sings in English, Pidgin, Yoruba, Igbo, Swahili, French and Portuguese. Impressive right? She is also the most subscribed Nigerian female artiste on YouTube, with almost 2 million subscribers.
With "Shekere", her collaboration with legendary Beninese artiste, "Angélique Kidjo", she gained more prominence internationally, and has continued to grow in leaps, in the global music industry.
Simi
Finally on this list, we have Simisola Bolatito Kosoko, simply known as "Simi". The talented singer, songwriter and sound engineer always captivates her fans and audience with her uniquely soft voice.
The soul and Afropop singer began her career as a gospel artiste, with the release of her first studio album, "Ogaju". However, in 2014, she switched to secular music and announced her change of genre to the world with her single, "Tiff". With "Tiff", Simi won two nominations and a Headies Award for "Best Alternative Song" in 2015.
Her second studio album, "Simisola", debuted at number 5 in the "Billboard World Albums Chart" in 2017, with popular songs like "Jamb Question", "Joromi", "Love Don't Care" and "Smile For Me". Her most popular hit so far is "Duduke", a song composed for her unborn child. The song gained worldwide popularity, especially on TikTok, and has currently amassed over 50 million views on YouTube.
Asides music, Simi has also delved into acting, proving that she is a versatile artiste, who can dominate any industry she wants. She is currently married to her colleague, "Adekunle Gold", and they have a child together. She was also the sound engineer credited for mixing and mastering Adekunle Gold's debut album, "Gold". Her musical experience and achievements have  earned her a spot, as a top judge in the 7th season of "Nigerian Idol', 2022.