Singer Timaya's Manager Prince Oluzor Shot De@d In Atlanta (SEE DETAILS)
Prince Oluzor, the manager of Timaya and a friend from childhood, passed away from gunshot wounds after being shot in Atlanta outside a gas station.
Around nine o'clock on August 31st, Prince Oluzor, a 38-year-old man, stopped at the BP station on Atlantic Drive and 14th Street NW near Georgia Tech.
He saw some people trying to get into his car as he waited in line at the store for a few minutes.
Read Also: Starboy Wizkid Becomes The 1st African To Sell Over 500,000 Albums In US (SEE DETAILS)
He took off running after them outside. One of the suspects started shooting as he got closer to them, killing him. Oluzor was taken to the hospital urgently, but he later passed away.
The suspects have not been located. According to the police, there were 2 to 3 suspects in the gray or silver four-door sedan that was last seen driving away west on 14th Street NW.
Call Crime Stoppers Greater Atlanta at 404-577-8477 if you have any information.
Timaya also reacted to his manager's death by saying: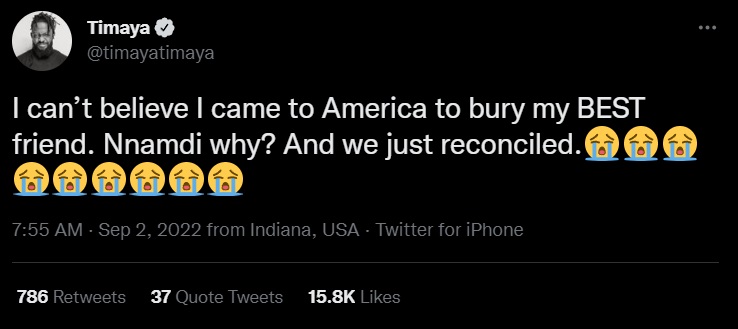 See the post below:
View this post on Instagram