Reactions Trail Portables New Face Tattoos
Known for making seemingly irrational decisions, controversial street artiste, Portable, has set the internet on fire again!
This time, he got multiple face tattoos in Cyprus and Nigerians can't get enough of it. In a video shared online, Portable could be seen holding tears as he endured a painful facial tattoo session.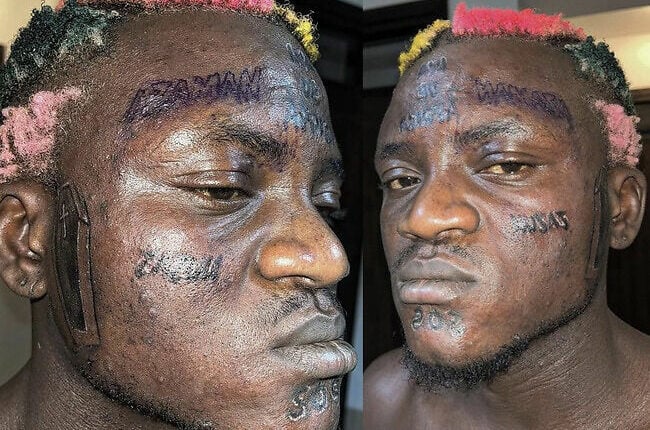 After a concert in Cyprus, Portable hit a tattoo parlor to celebrate his growing success. There, he filled his previously empty face with inscribings of his popular slangs – Zazuu, Azaman, Ika of Africa and SOS.
Also read: You Sing Another Song Wey Blow?- Portable Sl@ms Goya Amenor Over Headies 2022 'Best Street Hop Win (VIDEO)
This comes after his recent rainbow hairdo.
As expected, Nigerian have taken to various social media platforms to express their opinions on his face art.
Stanley Eke: 'It may sound like a cliche but at this point, this Portable guy really needs some phycological and psychiatric help. Sending him love and light.'
Toolz: "Portable sue the tattoo artist. Did he use gravel?"
VickTour: "He went all the way to Cyprus to tattoo casket on his face."
igd carplug: "Neega it's high time you start using iron sponge bro."
engnrseun: "Pimples and Carowhite no gree let tattoo show."
Check out the video of his tattoo session below.
View this post on Instagram