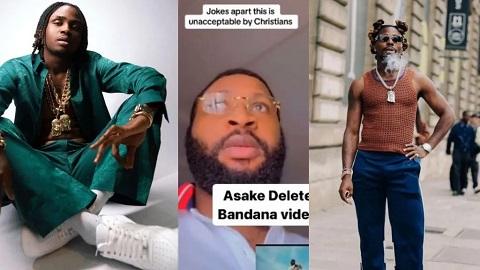 Logos Olori Reacts as Christians Also Tell His Brother Asake to Delete Bandana Music Video
Logos Olori Reacts as Christians Also Tell His Brother Asake to Delete Bandana Music Video
Logos Olori, Davido signee, has turned to social media to respond to a Nigerian guy who speaks on behalf of Christians telling his brother Asake to erase the Bandana music video.
Remember how Logos Olori put his boss Davido in hot water online as the "Unavailable" singer was promoting his tracks on his social media pages?
The Logos Olori song "Jaye Lo" music video depicted the singer on a building singing and making prayer gesture while other Muslims were seen below religious carrying out their solah and dancing at the same time.
The video did not sit well with Muslims, who began to strike out at Davido, prompting the musician to erase the song from his social media platforms.
Following the dragging of Davido online over the controversial music video of his signee, Logos Olori, a new clip hits the internet where a middle-aged Nigerian man speaking on behalf of Christians tells singer Asake, a Muslim whose real name is Ahmed Ololade to remove his Bandana song within 24 hours.
In the hit song Bandana music video by Fireboy, Asake was seen wearing a Jesus pendant on his neck and singing in a church.
Following the 24 hours given by the Christians for his biological brother to remove the "Bandana" video, Logos Olori via the comment section of the Instagram blog, Gossip Mill expresses how shocked he is signifying that the matter has gone worse and deepened than it should be.
Logos Olori wrote; "Omo."
Logos Olori Reacts as Christians Also Tell His Brother Asake to Delete Bandana Music Video