"I'm not doing music because of money" – Rema
"I'm not doing music because of money" – Rema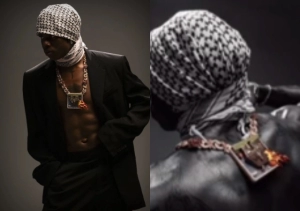 Famous artist Divine Ikubor, popularly known as Rema, has claimed that he does not create songs purely for financial gain.
The 22-year-old claimed to be financially secure even when performing freestyles and posting on social media, which led to his record company finding him.
Korty EO was told by Rema in an interview that he would still be"hustling" and earning money even if he failed to break into the music industry.
The 'Calm Down' crooner said, "If music didn't work, I will still be pushing that p in the corner while hustling, you understand.
"Even at that point where I was doing freestyles, I didn't really need to do a freestyle because I needed money. I had money. I was actually good."*
The singer announced his desire to work with more female American celebrities such as Nicki Minaj and Megan Thee Stallion.
Rema, who stated this in an interview with the Hollywood Reporter on Tuesday at the 2023 MTV Video Music Awards in New Jersey, especially stated that he wants to work with female superstars more.
He named rappers Nicki Minaj and Megan Thee Stallion as individuals he is excited to collaborate with in the near future.
He said, "I'm hoping to meet Meg [Thee Stallion], Nicki [Minaj] for possible collaborations. Who else? Yeah, I wanna link up with girls dem."
This follows the success of his breakthrough hit with Selena Gomez, 'Calm Down.'
Rema beat Wizkid, Davido, Burna Boy, and others to become the first-ever winner of the newly created "Best Afrobeats Song" category at the 2023 MTV Video Music Awards on Tuesday at the Prudential Center in Newark, New Jersey, USA.
CLICK HERE for previous news
"I'm not doing music because of money" – Rema