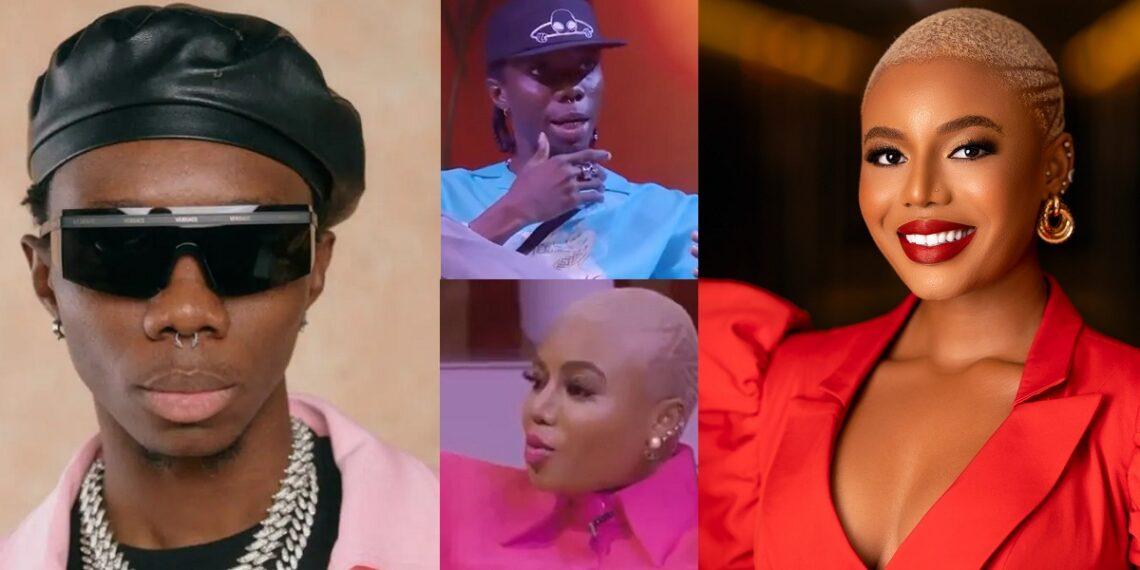 "I'm in love with you" -Nancy Isime reacts as Blaqbonez boldly proposes to her during live show [Video]
"I'm in love with you" -Nancy Isime reacts as Blaqbonez boldly proposes to her during live show [Video]
Nancy Isime, a well-known Nollywood actress and TV host, was surprised when musician Blaqbonez proposed to her during a performance.
The actress declined the marriage proposal right away and carried on with the show.
The most recent episode of Nancy Isime's TV show featured Blaqbonez, who took advantage of the occasion to declare his love for the actress.
He claims that if the actress accepts him, he is prepared to get married to her. Nancy, however, disapproved of him right away.
"Marriage? I will marry. I will marry, but I will be in like a different kind of marriage. If you [Nancy] are open to it, I'm in love with you so…", he said.
Nancy Isime instantly replied, "No!"
Blaqbonez was not embarrassed by Nancy's swift rejection, instead he laughed it out.
Speaking on his ideal marriage, the Singer said he and his wife would have separate rooms to cater to their individual differences.
He went on to cite an example of liking a dark room whereas his wife might be more inclined to prefer pink coloured room. The artiste also said he likes his bathroom to have a certain look and does not want to see things hung in different parts.
Furthermore, Blaqbonez said the separate room arrangement with his partner helps him keep up with his polygamous nature so that he will be having relations with other women without disturbing his wife.
For More Celebrity News Click Here