Don Jazzy Reveals Reason For Rema's Absence In Mavin All Stars Song – "Overdose".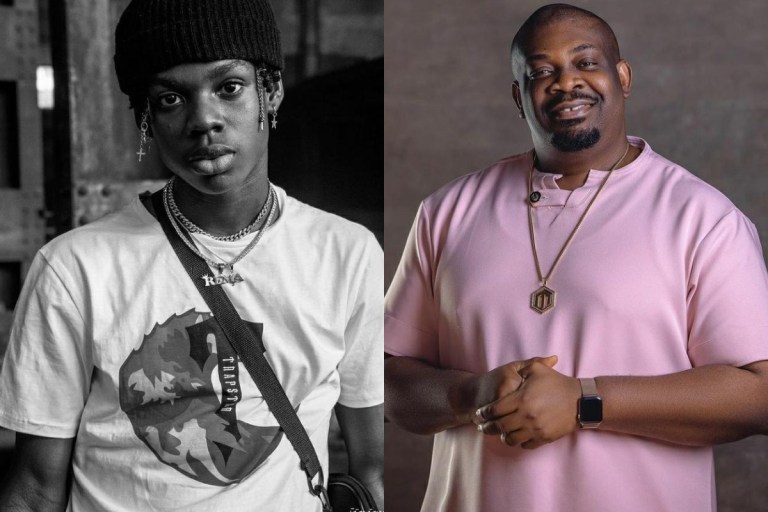 Read also: Music- Mavin All Stars, Ladipoe, Crayon, Magixx, Arya Starr, Boyspce Releases New Track – OVERDOSE
To celebrate the 10th anniversary of Mavin Records, which is unarguably the biggest record label in Africa, the label released a song featuring all its artistes. The song, "Overloading (Overdose)", has been enjoying massive success since it was released on the 13th of May, 2022. Since its release, it has dominated Nigerian music charts, and even debuted at No.1 on Apple Music Nigeria and other African countries after Wizkid tweeted about it.
The Mavin All Stars song featured all the top stars signed to the record label except Rema and Johnny Drille. The artistes who lent their voices and presence to the hit were Ayra Starr, Crayon, Ladipoe, Boy Spyce and Magixx. Rema's absence baffled a lot of people, who believed that he should have graced the song with his presence, considering the fact that he is currently the biggest new artiste in the record label.
During an interview with Cool FM, Don Jazzy revealed the reason for Rema's absence. He said,
"When I sign people and I introduce them to you guys like "ah this guy is talented o!", last last it's not me that's going to stream all the music, it's all of you that are still going to go and stream it. So my own is to just come and be ringing agungu everywhere, "this guy is talented o, go and check it out". So obviously sometimes the fans maybe they're suffering from fatigue, listening fatigue, or they're just engrossed in some other artiste or their fave so they take their time. So, for somebody like Crayon, I've been like, "you people are not hearing this boy o, this boy is dope!" You understand? So I'm very happy that the intentionality we put in a song like Overdose was to actually make sure that people see him as the talented guy that he is which is why he's the one starting the song and taking the chorus to carry the thing along.

He's the senior in the team so you people must see him now. So we actually really didn't want to put Rema on this one because I really wanted you guys to see (the other guys). Normally when we activate people, we try as much as possible to make sure we don't do collaborations. So when it's Magixx EP, it's Magixx EP. You see him for who he is. When it's Ayra, you see her for her. So everybody has done their EPs now so I felt like okay, they've seen them, there's small acceptance, okay let's try and amplify that with one of these songs. So this particular song is more like an Adaobi than a Dorobucci. Like Adaobi the other time, I tried to use it for you guys to see the younger guys as opposed to having like Tiwa and the others in there. But we're working on album that (Rema) is definitely a part of. It's like a MAVIN All Star album that's dropping this year."
To summarize his speech, Rema was not included in the song because he was already a huge artist who did not need the exposure from the song as much as his fellow artistes in the label. He noted that the song was especially to highlight the talent of Crayon, the senior artiste in the team, who was not as popular as his teammates.
However, fans of Rema should not worry, as Don Jazzy also revealed that he would be included in the upcoming Mavin All Star Album, scheduled to be released this year. It would also include Johnny D
Read also: Check Out The Top Biggest Record Labels In Africa (SEE DETAILS)