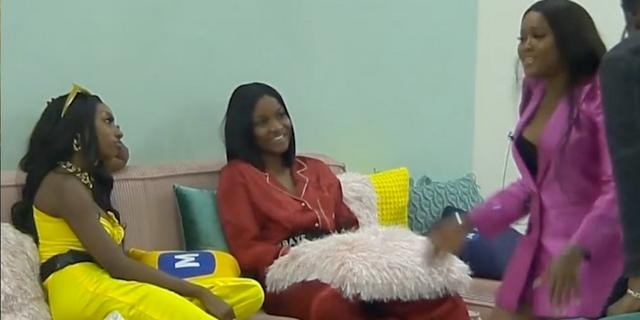 Cee-C and Ilebaye reconcile on 'BBNaija All Stars'
Cee-C and Ilebaye reconcile on 'BBNaija All Stars'
Looks like there is some peace in the house for now after the rave fight and Biggie's strikes.
Ilebaye apologised to Cee-C and Doyin after the BBNaija All Stars eviction show on Sunday, August 7, 2023.
Right before the commencement of the Sunday eviction show, Biggie addressed the housemates on the issue of the fight that occurred after the Saturday rave party on Saturday, August 5, 2023, between Ilebaye and Cee-C.
Ilebaye was given a double strike and was also banned from the Head of House games, Black Envelope games and Pardon Me Please nominations alongside Cee-C.
After the eviction show which wrapped up with Princess being evicted, Ilebaye who had sat beside Cee-C during the show, apologised to her about the fight that happened.
Cee-C accepted the apology and also expressed the fear she had towards the outcome of the situation. In her words, "I'm not upset, even today I was even worried. When I saw you, I was like I don't want this thing to lead to disqualification because it will be on my conscience, I won't be able to function… I'm just grateful for the way Big Brother handled it."
Doyin joined in the conversation and things between and Ilebaye have settled off. But Ilebaye still remained worried about the other housemates and how they felt about things.
Ceec and Ilebaye may have found a common ground as they recently had a chat after to sort out their disagreement. #BBNiaja #BBNaijaAllStars

— Big Brother Naija (@BBNaija) August 7, 2023
Cee-C was still quite shaken up about the situation as she expressed things to Cross, begging him to please win the HOH games happening on Monday, August 7, 2023. She explained that she really just wanted to have access to the HOH lounge, which she considers a serene space for her to think and strategies.
One can only wonder if Ilebaye would be able to keep her cool till the end of the show and avoid getting another strike which could lead to immediate eviction from the BBNaija All Stars house.