5 Iranian girls detained for dancing to Rema's 'Calm Down,' he reacts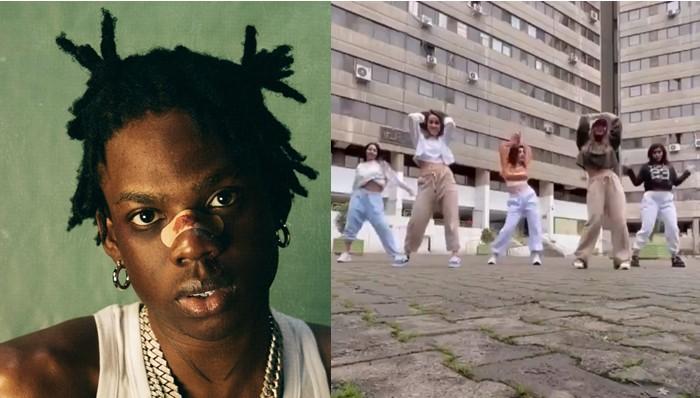 Women are banned from dancing in public in Iran.
A group of Iranian teen girls who shared a video dancing to Rema's 'Calm Down' were reported to have been detained and pressured into apologising for the act.
According to a tweet from the Twitter account Shahrak Ekbatan, the five girls were first brought in and given a warning, then called again and detained for two days before being compelled to make a coerced confession.
According to Fox News, Security forces started looking for the five girls soon after the video, which was filmed near Ekbatan, west of Tehran, gained popularity online. They weren't wearing headscarves, which are required for women in Iran, as the video was shared on International Women's Day.
The Shahrak Ekbatan Twitter account, which tweets about happenings in the area, verified that Iranian security agents were looking for girl. A prospective arrest and custody had been forewarned.
Iranian-Canadian journalist Maziar Bahari also commented that the video would be considered normal in most cities around the world but in Iran, "it's an act of defiance."
This is an ordinary scene in most cities around the world. But in #Iran, it's an act of defiance. Young #IranianWomen dancing in Ekbatan Town in west #Tehran #IranianRevolution #IranRevoIution2023 #InternationalWomensDay pic.twitter.com/g0pHrisWPe

— Maziar Bahari (@maziarbahari) March 9, 2023
"I wonder if @heisrema knows that his song #CalmDown is the backgrop of an incredibly courageous act of defiance by young Iranian women?" It started when 5 girls danced to his music in @shahrak_ekbatan- risking persecution by a regime that has murdered women for simply protesting," tweeted Nahayat Tizhoosh, another journalist.
امروز اومده بودن دنبال فیلم دوربین های بلوک ۱۳ برای شناسایی این دخترایی که فقط رقصیدن و هیچ کار سیاسی نکرده بودن
دیده شده که داشتن دوربین هارو چک میکردم و نگهبانارو سوال و جواب میکردن
از طرفی پیج شخصی که این اثر قشنگو بجا گذاشته بود دی اکتیو شده
هرجوری که شده به این دخترا برسونین… https://t.co/sWRW4ZAIMH pic.twitter.com/9mGVy4ownI

— شهرک اکباتان (@shahrak_ekbatan) March 9, 2023
In response to the incident, Rema used Twitter to express his inspiration from the girls and other Iranian women who are fighting for a better future.
He tweeted, "To all the beautiful women who are fighting for a better world, I'm inspired by you, I sing for you, and I dream with you."
To all the beautiful women who are fighting for a better world, I'm inspired by you, I sing for you and I dream with you. ✊🏿🤍🇮🇷 https://t.co/sOCQjZnlpB

— REMA (@heisrema) March 14, 2023
For More Celebrity news click here