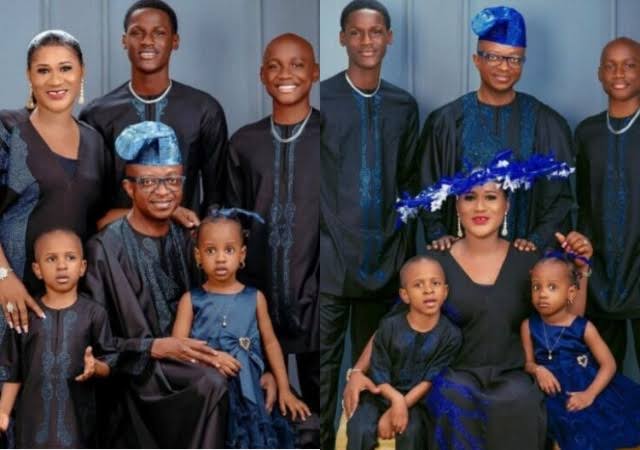 2face Baby Mama, Sunmbo Adeoye Pens Emotional Note to Husband on Their 10th Wedding Anniversary
Sunmbo Adeoye, 2face's baby mama, and her pastor husband, David Adeoye, are celebrating their tenth wedding anniversary.
Sunmbo thanked him for welcoming her and her two sons and accepting them with open arms by sharing gorgeous images of their blended family.
The entrepreneur commended him for being a terrific husband and father to their children, particularly her two sons with 2face.
Sunmbo Adeoye honors her spouse on their tenth wedding anniversary.
Praying for him, she wrote,
"10 years ago, on July 22, 2013. I said YES to doing life with you.
My Dearest Olatunde.
As we mark a decade of togetherness and love. I find myself overwhelmed with gratitude and joy for the incredible journey we have shared. Today, on our 10th wedding anniversary, I want to take a moment to honor you and express my deepest appreciation for the person you are and the role you play in our lives.
From the very beginning, you embraced not only me but also my two wonderful boys, accepting them as your own with open arms and a loving heart. Your unwavering support and care have been the foundation upon which our beautiful family stands. You have been more than a husband, you've been a devoted father, a reliable friend, and a steadfast mentor to all of us.
Through the ups and downs that life has brought for way, you have been my rock, offering a comforting presence and wise counsel that has guided us through every storm. Your patience, understanding, and endless encouragement have lifted my spirits and allowed me to grow as a person, a mother, and a partner.
Your dedication to our family's happiness and well-being knows no bounds. Your selflessness shines through every day, as you effortlessly balance your responsibilities with grace and tenderness. Your loving gestures and small acts of kindness never go unnoticed, reminding me of the lucky woman I am to have you by my side.
As we celebrate this milestone, I cherish the countless cherished memories we've created together – the laughter, the years, the shared dreams, and the unforgettable moments. Each day, I fall in love with you all over again, knowing that the bond we share is not just about the big moments, but the little ones that weave our story together.
My dear husband, you are my anchor, my confidant, and my greatest cheerleader. Thank you for the love you give so generously, for being the person I can always lean on, and for making our house a home filled with warmth and joy.
Here's to ten years of happiness and countless more to come. I am excited and grateful to continue this journey hand in hand, side by side, and what to heart with you, my beloved.
With all my love,
Adesunmbo".