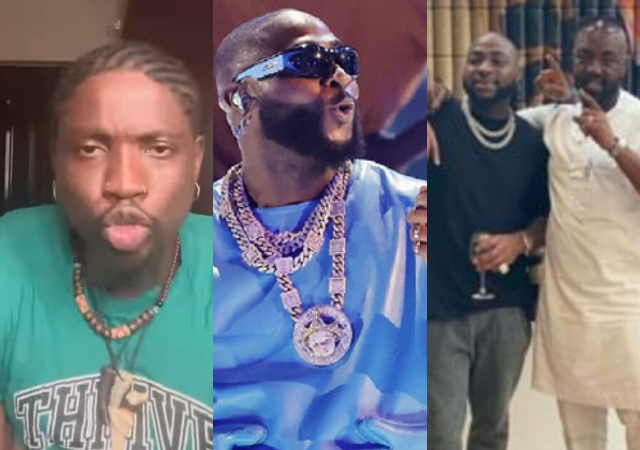 "Them don lodge who for tell us truth" – Netizens lament, call out VeryDarkman over silence on Davido's debt saga
"Them don lodge who for tell us truth" – Netizens lament, call out VeryDarkman over silence on Davido's debt saga
Netizens have chastised activist VeryDarkman for remaining silent on Davido's debt crisis, recalling how the singer lodged him only a few days before.
AFROBEATSGLOBAL recalls a businessman accusing the DMW CEO of breaching a 218 million naira contract, causing him monetary losses.
However, the singer has stayed silent in the face of these allegations.
VeryDarkman, famed for his unflinching manner and daring to drag celebrities, has been chastised for failing to address the issue.
Netizens speculated that the social commentator's silence was due to his developing friendship with the artist.
Remember how Davido booked an expensive hotel room for VeryDarkman and then took him out to hang out with his friend Cubana Chief Priest?
Check out some reactions …
sheddyoflagos said: "Where's very dark man ? Has he suddenly developed ears and eye problems ?"
a _black_rosie commented: "All of a sudden VDM has developed selective blindness, activist isonu. Belle-ctivist"
Veevogee wrote: "Them don lodge who for tell us truth now"
Ny_obah remarked: "Very darkman no wan talk because he don chop Jollof rice."
_amazingsophie penned: "VeryDarkman would hv said the truth but he is one of the campie now".
CLICK HERE for previous news
"Them don lodge who for tell us truth" – Netizens lament, call out VeryDarkman over silence on Davido's debt saga