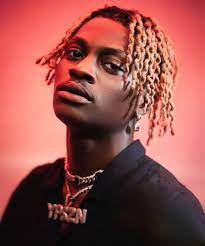 Psycho YP aims for the street with 'Osapa London'
Psycho YP aims for the street with 'Osapa London'
With style, cadences, and techniques that largely lean to Western Hip Hop Psycho YP is the cool kid of Nigerian rap.
Regarded in the critical cycles and the Hip Hop community as the leader-elect of the next generation, Psycho YP's talent has helped him make a strong impression on conscious listeners.
And while he has never been ashamed of this identity, the rapper maintains that when it comes to him, there's more than meets the eye.
Earlier in 2023, YP had a moment on Twitter when he was described as a trust-fund kid – a description that didn't sit well with him. His attempts to emphasize his struggles in the UK to correct this impression only re-emphasized the popular opinion. And with his music primarily appealing to the cool kids, YP and his team understood that if there was perhaps a way to show the other dimension of his talent and personality, it was through his music.
'Osapa London' is YP's effort to connect with the average Afrobeats listener whose local taste palette is conditioned solely for music that carries relatable homegrown elements.
Through an exploration of the mainstream, (think street-relatable) sounds, talking points, and style, YP breaks out of his comfort zone and takes the route followed by other rap greats.
Ice Prince won the BET in 2013 and in the preceding year, he was the hottest rapper and artist on the continent. While his rap carried strong (cool) Western elements than that of the average Nigerian rapper (he even describes his brand as Cool Cat), he understands the need to tie his music with significant cultural elements through topics, language, and strategic collaborations.
A decade after Ice Prince dominated the continent Psycho is collaborating with the veteran as he aims to connect with the mass market.
Osapa London is a suburb of Lagos Nigeria that brings together people from different walks of life with a good number of them being young artists trying to scale their hustle to become stars. It was in this neighbourhood that YP recorded his new EP and the rapper who grew up in the widely unrelatable quiet life in Abuja is now painting pictures the average listeners from the social and economic capital of Nigeria can relate to.
Across 8 tracks, YP explores Afrobeats, Amapiano, Trap, and Dancehall blends as he stretches his talent without losing his identity. On a song like 'Do What I Like', he delivers uses Trap to create familiar cool Kid music and on the next track 'Not My Fault', he uses Amapiano and Ajebo Hustlers' familiar vocals for a mass market record.
He connects with fellow Abuja rapper and Hip Hop soundscape-shaping rapper Odumodu Blvck for a quintessential Afrobeats rap record that captures the everyday experiences of young Nigerians who have to wet the palms of security agents and street boys.
His talents combine smoothly with Teni who's also in the middle of an artistic evolution for the Grime record 'Bad B' that sees her add Yoruba to the cool kid music in a way that strikes balance. His partnership with Laime who sounded so much like Burna Boy for the Afrobeat blend 'AnyGadDamnTime' captures his desire to make music that steps away from Western-styled Hip Hop. And while YP still very much sounds like he's making music for niche listeners, his decision to explore these sounds and features these artists shows that willing to try.
Overall, with 'Osapa London', YP experiments with mainstream sound at a new level as he aims to connect with a wider audience. While his delivery and writing could still use some Afrobeats tweaking, he imposes himself on every track as one would expect from a rapper at his level.
'Osapa London' offers a look into YP's intentions to expand and this EP is likely the beginning of an evolution that will take his career to the next level.