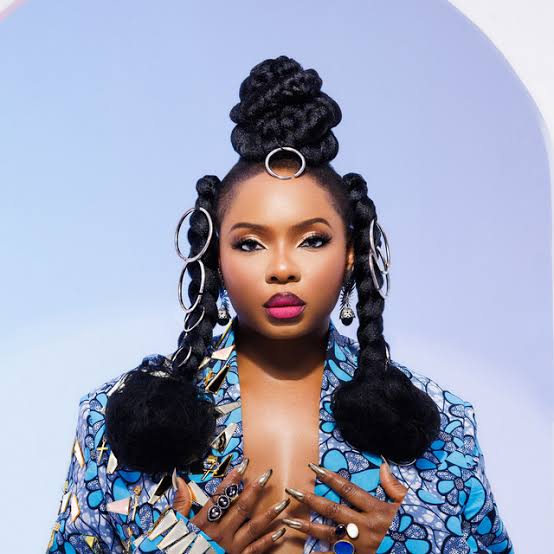 "Focus on your own life instead of my fashion choices" – Yemi Alade slams fashion police
The well-known Nigerian singer Yemi Alade has frequently come under fire for her sense of style.
She usually ignores such remarks, but it appears that this time she was not in the mood to do so
The singer posted a fresh shot to her Twitter page in which she looked chic in a brown ensemble.
Yemi Alade wore a brown two-piece ensemble that included a button-down shirt and a miniskirt, and she looked effortlessly stylish.
She accessorized her outfit with a pair of fishnet stockings for a touch of edginess and finished the look with chic sneakers.
The singer wrote;
"I'm amazing, extremely talented, kind and extraordinary. You would mistake me for an angel 🤧❤️ "
Only a few minutes after the singer posted the picture, @humbledarasimi, a Twitter user, criticized Yemi Alade for having fishnet stockings that were torn around the inside of her thighs.
Although the tweet has since been removed, the user tweeted a zoomed-in screenshot of the troublesome area.
In her tweet, @humbledarasimi wrote;
"I'm the only one seeing this."
Yemi Alade, known for her quick wit and no-nonsense attitude, responded to the comment with an epic clap back.
She wrote;
"This pic was posted 3 minutes ago, and that was enough time for you to zoom in and tweet your ignorance. Imagine if you paid attention to the details of your life in this manner; you would be in a better place by now. It's open on both thighs since that area is your business too."
Netizens Reactions…
@iam_jenniferr_ said; For a celebrity, I don't think she should be seen wear a torn fishnet."
@bestybesst said; "That's a net what do u expect." *
tolu.og: "Premium dragging for not minding your business."
@sleepwear_nig wrote; "It's a fishnet, sometimes people even rip it in different places. Face your front!"
@nri_olaedo said; "Always women shaming their fellow women."
@nifemi_8 said; "She paid attention to all the details on Aunty Yemi but ignored key details like differences between "I'm" and "am I."
@ife_artistry said; "Funny how it was a woman that zoomed in but na them be ambassador of women supporting women you obviously weren't the only one who noticed but na only you zoom n screenshot nawa.
@fashiongirlnextdoor said; "It's the fashion o, lol. Ignorance indeed."
@karenthomat said; "Ripping pantyhose sometimes makes it free . Imagine trying to embarrass your fellow woman on social media and still used wrong English . Am I not I'm I."