Will Smith Resigns From Oscars' Academy Over Sl#pping Chris Rock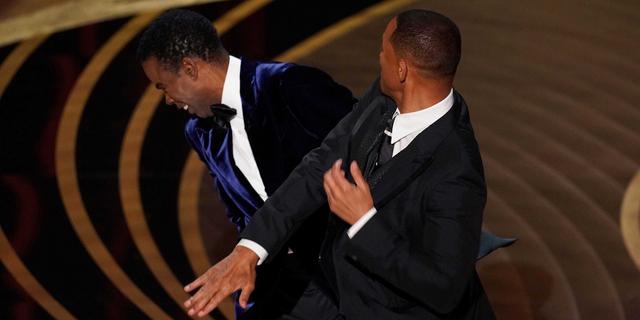 Will Smith resigned from the Academy on April 1, 2022, after the Academy declared that they would begin an inquiry into the incident of the day, and there had also been rumors that Will Smith would be added to the list of celebrities barred from attending the Oscars.
Will Smith announced his resignation on April 1, 2022, in an official statement, stating that he is heartbroken for denying others the opportunity to be acknowledged and that he is willing to suffer whatever penalties result from slapping Chris Rock during the award event.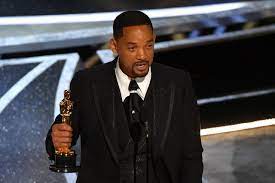 Read Also: American Actor, Will Smith Sl#ps Chris Rock At The Oscars (VIDEO)
Will Smith wrote;
"My actions at the 94th Academy Awards presentation were shocking, painful, and inexcusable. The list of those I have hurt is long and includes Chris, his family, many of my dear friends and loved ones, all those in attendance, and global audiences at home. I betrayed the trust of the Academy. I deprived other nominees and winners of their opportunity to celebrate and be celebrated for their extraordinary work. I am heartbroken. I want to put the focus back on those who deserve attention for their achievements and allow the Academy to get back to the incredible work it does to support creativity and artistry in film."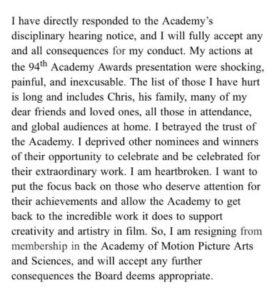 Academy Responds To Will Smith's Resignation
In responding to the resignation of Will Smith from the Academy, the Academy said in a statement on the 1st of April 2022;
"We have received and accepted Mr. Will Smith's immediate resignation from the Academy of Motion Picture Arts and Sciences, We will continue to move forward with our disciplinary proceedings against Mr. Smith for violations of the Academy's Standards of Conduct, in advance of our next scheduled board meeting on April 18."
Chris Rock is yet to release an official statament since the incident and was also reported to not have addressed the issue during his latest comedy special.