Uncutxtra Awards Calls For Nominations For Its Maiden Edition (Categories)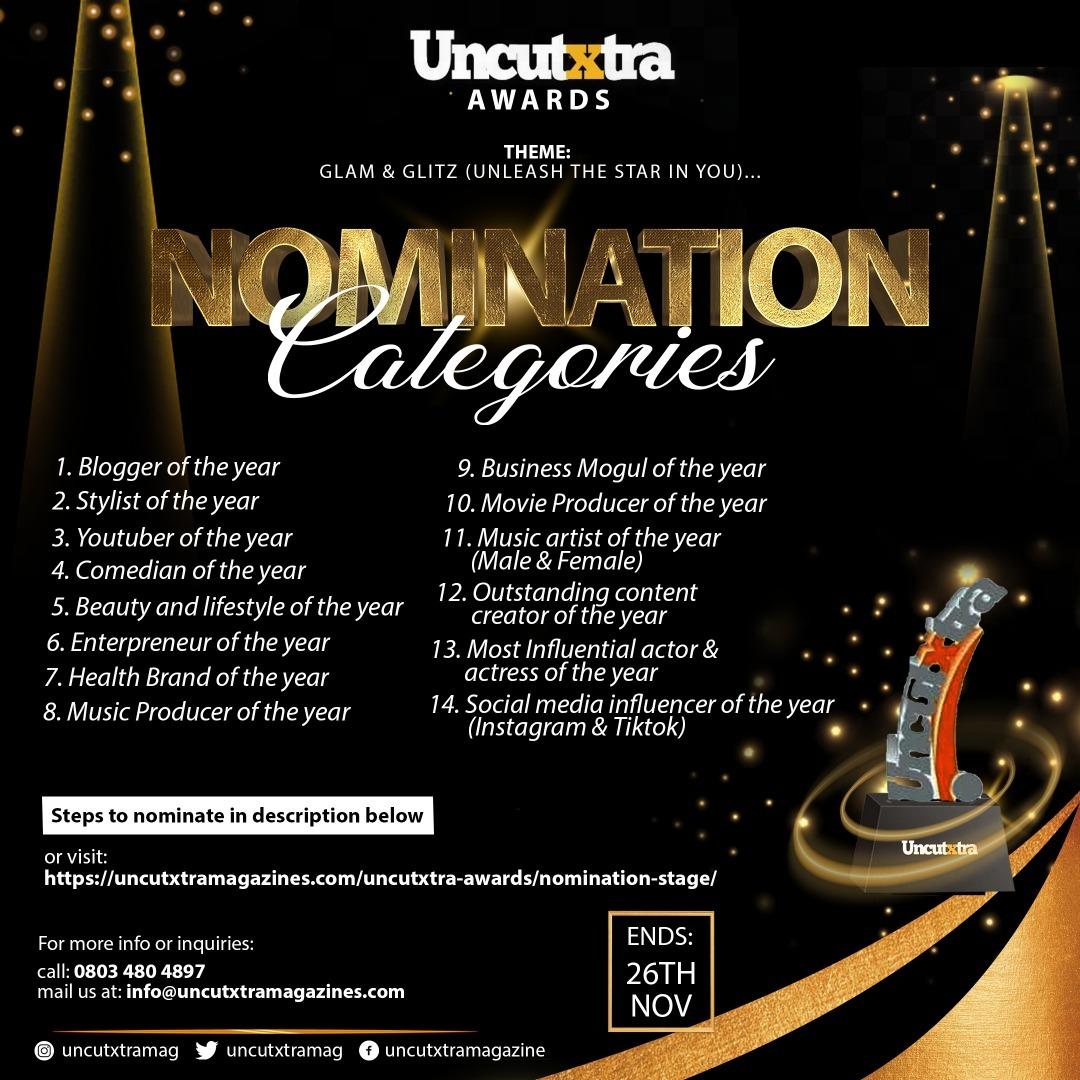 Uncutxtra Magazines is launching Its maiden awards this year to celebrate the successful publication of Its 10th edition which had BBNaija's Hermes as cover star. The award seeks to celebrate and honor outstanding achievements and personalities in the Nigerian entertainment industry.
Afrobeatsglobal caught up with the organizers of the awards and this was what they had to say.
"The Uncutxra Magazine awards event would be recognizing and rewarding dignitaries and personalities who have played important roles in developing the entertainment industry in Nigeria. We want to celebrate and reward your favorite celebrities and other amazing personalities who showcase exceptional ties with their fans and create innovative and creative contents."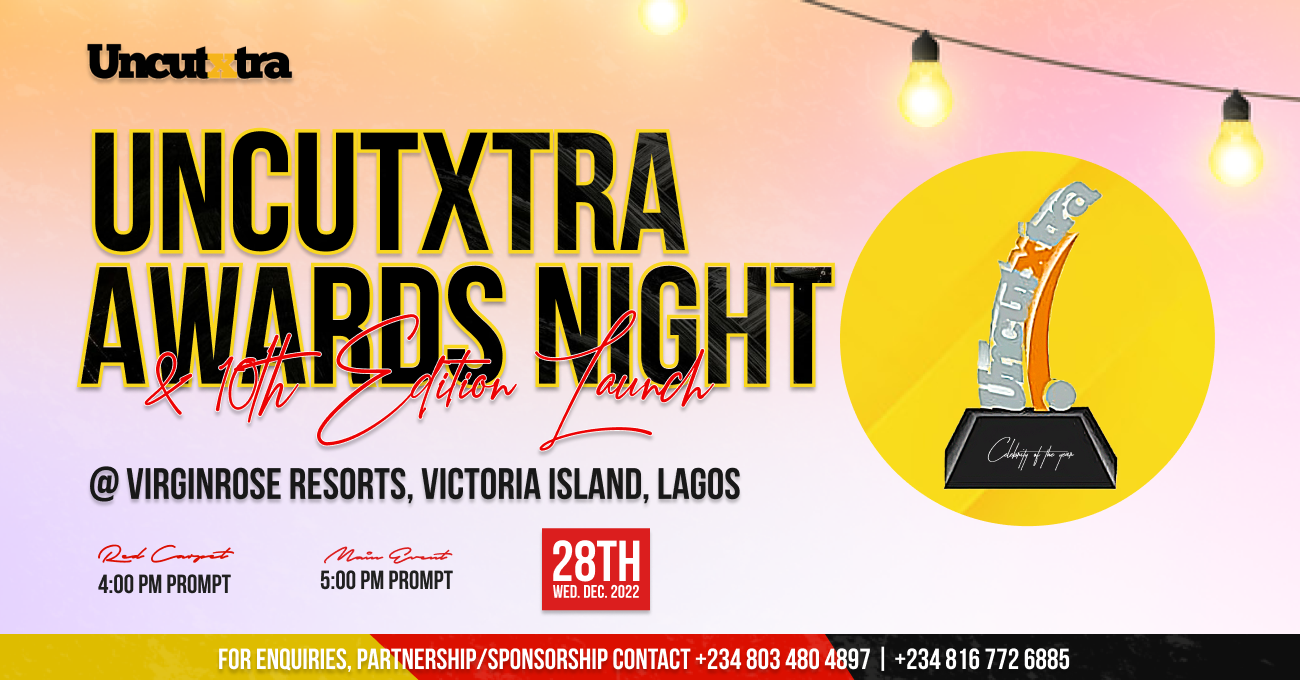 AWARD CATEGORIES
Blogger of the year
Stylist of the year
Youtuber of the year
Comedian of the year
Beauty and Lifestyle Influencer of the year
Entrepreneur of the year
Health Brand of the year
Movie producer of the year
Music producer of the year
Business mogul of the year
Music artist of the year – male/female
Outstanding Content creator of the year
Best actor/actress of the year
Social Media Influencer of the year – Tiktok and Instagram
AWARD STAGES
The award process is in two stages:
– The Nomination Stage.
– The Award Voting Stage.
THE NOMINATION STAGE
In this stage, fans will be given the opportunity to nominate their favorite celebrities, entertainers and influencers to qualify for the next stage – Award Voting. The nominations will officially commence on Friday,18 November 2022 at 12:00 p.m and close on Saturday, 26 November 2022. Contestants with the highest number of nominations in each categories will proceed to the next stage.
THE AWARD VOTING STAGE
Here, fans will have the opportunity to vote for the celebrities and entertainers that made it to this stage. The voting will run from Monday, 28 November 2022 at 12:00 a.m till Sunday,11 December 2022 at 11:59 p.m. The winner from each category (determined by the nominee with the highest votes) will receive their Uncutxtra award at the Uncutxtra Magazine Launch and Award night. The event will hold on December 28, 2022, at Virginrose Resorts, V.I.
Kindly nominate your favorite celebrities, entertainers and influencers below to ensure they are celebrated and given the accolades they deserve. The award will also give them an opportunity to expand their talents.
HOW TO NOMINATE:
1. Visit https://uncutxtramagazines.com/uncutxtra-awards/nomination-stage/ to nominate your favorite celebrities and influencers.
2. Click on any of the nomination category to nominate your favorite celebrities and influencers.
3. Input your favorite celebrities, entertainers and influencers name.
4. Click on submit.
HOW TO VOTE:
Visit the live voting page (which would be updated here) from the starting date and vote your favorite from the list of nominees that will win the category award.
ELIGIBILITY:  
Anyone with a valid email address is eligible to vote. The Uncutxtra Awards page is accessible in accessible anywhere.
The Nomination Stage
Start Date: November 18th, 2022
End Date: November 26th, 2022
The Award Voting Stage
Start Date: November 28th, 2022
End Date: December 11th, 2022
Winners will be announced on the 28th of December, 2022
For enquiries, partnerships, sponsorships and adverts, contact Adebunmi Olatunji via:
Call: 08034804897
Email: info@uncutxtramagazines.com