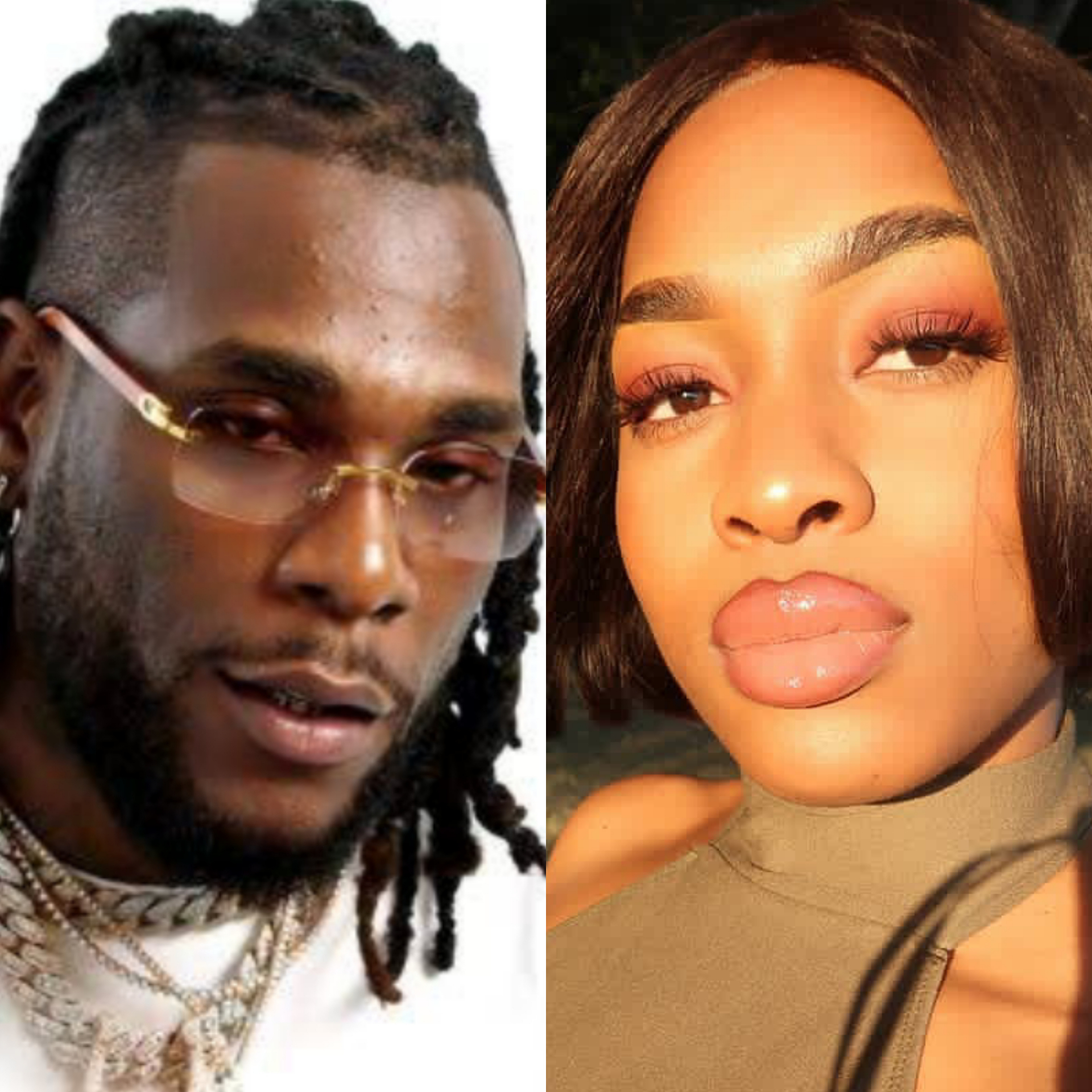 How Burna Boy And His Friends Shot At My Friends; Lady Involved In Shooting, Gives Detailed Account Of What Went Down
A UK based Nigerian lady has come out to give an account of what happened that that led to the shooting in Obi Cubana's night club a few weeks ago. we should remember  that about two weeks ago, Grammy award-winning singer, Burna Boy trended on Twitter after reports of his aides/friends, shooting at a group of club goers at Cubana club in Victoria Island, Lagos on Wednesday June 8, 2022­circulated the internet.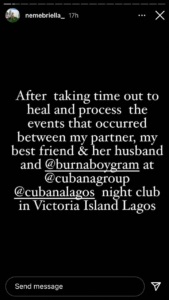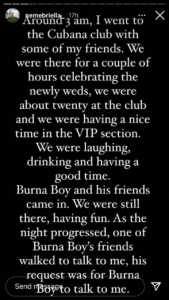 The lady, who goes by the Instagram handle, @nemebriella_ took to her IG on Sunday night to give a detailed account of what went down in a series of posts on her IG story. She explained that she and a couple of her friends who were visiting Nigeria from overseas for a childhood friend's wedding were being shot at by Burna Boy's aides.
According to the lady, her and a couple of her friends were having fun at the club after the wedding when Burna Boy and his friends walked in. They were still having fun and enjoying themselves when one of Burna Boy's friends came to her, telling her that the singer requested her audience which she turned down.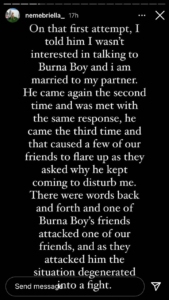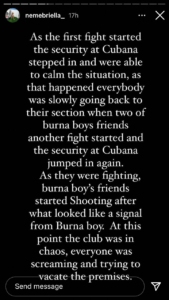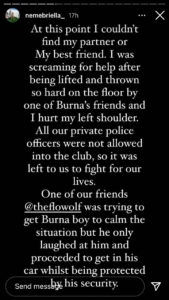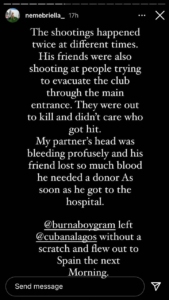 He tried again and after the third time, her friends became furious and wanted to know why he kept disturbing her. Words were exchanged which eventually led to a physical fight and the club securities stepped in to break off the fight.
See also; Wizkid, Tems, Burna Boy, Davido And More Celebrities React To The Gruesome Oyo Massacre
According to the lady, it was after what seemed like a signal from the singer that one of his friends pulled out a gun and was shooting at them.
She added that even after one of her friends tried to reach out to the singer to calm the situation, he simply laughed and left the scene while his boys kept shooting at people trying to evacuate the premises.
She noted that they were out to kill and didn't care who got hit as her partner was bleeding profusely and one of his friends who got hit, needed a blood donor when they got to the hospital because he lost a lot of blood.
She also queried club owner Obi Cubana, for not releasing CCTV footages of what happened or even an official statement addressing the incident after he reached out to them, four days after the incident, promising to do everything in his power to get justice for attempted murder.
Burna Boy had reacted in a tweet few days after the initial reports surfaced online, he tweeted, "Nigerian Social media can say BURNA BOY started Boko haram, e no go shock me."
Fans have however been controversial about the situation. while some are openly shouting BOO, others are loyally rooting for him. Take a sneak at the post below and don't forget to share your opinion with us.
This matter is not hard, cubana should produce the CCTV tapes or be shut down with immediate effect, the matter no hard, burna boy won't try this outside, no regard for lives in their own country, but will come and be singing "we are the monsters you made", this is disappointing https://t.co/o7OrW4PtYu

— trenches (@waterboy_dml) June 20, 2022