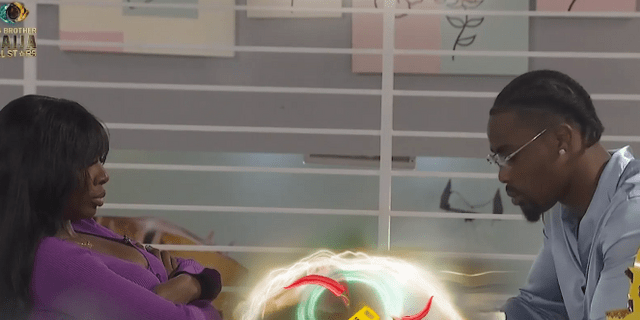 "She checked if everyone was asleep first" – Tolanibaj and Neo Akpofure get busy under the duvet
"She checked if everyone was asleep first" – Tolanibaj and Neo Akpofure get busy under the duvet
BBNaija Last night, Neo Akpofure and his female co-housemate, Tolanibaj, got busy between the sheets, which got a lot of people talking online.
This comes just a few days after Tolanibaj revealed her feelings for Neo Akpofure, prompting an outcry from his ex-lover, Vee Iye, who had suspected all along that Tolanibaj loved Neo.
In a recent development, Tolanibaj and Neo were observed sharing a bed in a suggestive position. Before crawling beneath the duvet, Tolanibaj double-checked that the other housemates were all asleep and that no one was watching.
She fondled Neo Akpofure's face before getting beneath the sheets, and her moves raised the brows of many netizens.
See Netizesn reactions culled beow:
yourfavblog
I thought she said she doesn't like guys that dance anyhow at the club. Oniro oshico
ussymay4
The desperation is loud
tokee
Comforter with benefit… werey meji 😂
nonye_judith
I can only imagine what the reunion will be like… Olopa ma ko everybody last last
gladyschiamaka9
Justice for baye, Cos all the classy gals in the house as they claim do the worst behide close doors
rantib134
This girl just dy rubbish her sef
official_doreenasemota
See who Dey call illebaye names ooh😂😂😂
millztarie97
I am so disappointed in her sis😮
olayinkahammed380
My comfort person in the mud 😂
osaze_terry
Na wa fear a friend like Tolani and a uselessssss bf like Neo. They are not kissing o they are grinding their new teeth in their mouths🤮
browpro.ng
All these yankee girls 🤦🏾‍♀️….. she's giving anita(Davido) vibe !
For More Celebrity News Click Here
"She checked if everyone was asleep first" – Tolanibaj and Neo Akpofure get busy under the duvet