Boy Spyce is the newest Mavin Records signee. Boy Spyce is known for doing covers of popular songs, which he has used to his advantage in gaining a sizable social media following. A cover he did on Wizkid's crossover album 'Essence' months ago sparked a social media craze, drawing attention to the gifted singer-songwriter.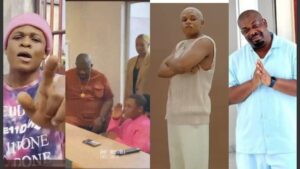 Read Also: No Girl Loves Me And I Wonder Why They All Pretend- Burna Boy
Fast forward to now, and Boy Spyce has signed with Mavin Records, one of Africa's top record labels. The singer-songwriter releases a blistering self-titled extended play in an attempt to start a fresh chapter with the SMD family and his fans. Skoolbeats, Aykbeats, Kezzi, Johnny Drille, Presto, and Andre Vibez created the EP, which features five melodic songs.
Listen to the song below:
More videos of Boyspyce below:
View this post on Instagram