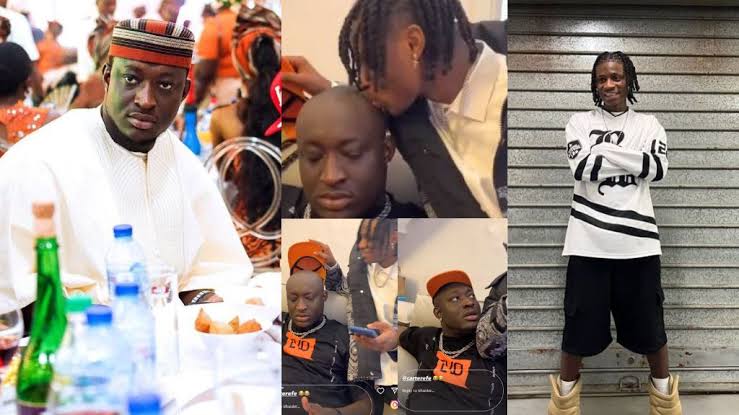 He was traumatized – Reactions trail the moment singer Khaid k!ssed Carter Efe's head
A funny video featuring quickly rising Nigerian singer Khaid and the comedian Carter Efe has already sparked a number of responses.
Khaid, who made his debut in the Nigerian music scene with the smash hit "Carry Me Go," was first spotted on a chair next to Carter Efe, but that wasn't the end of it.
In the video, as the two were fiddling with their phones, Carter Efe's cap was suddenly removed by Khaid, who then dropped a k!ss on it.
Carter Efe's mouth hung open in shock as he reacted to this because he was unable to fathom why Khaid had committed such an act.
Captioning the video, The Mix Niaja on Instagram wrote; "Wahala!!!! Moment khaid kissed carterefe black fresh bald skinny Raw head!!!🙆🏾‍♀️🙆🏾‍♀️🙆🏾‍♀️🏃🏾‍♀️."*
See how netizens react to the video of Khaid k!ssing Carter Efe's head below;
ogechi___: Ok wait…."Raw head" ??
mavelxygram606: You wan sell Carter for 50 pieces of silver to the Romans 🤣🤣🤣🤣🤣🤣.
favourite.philip: The caption wan wound me 😂😂.
kalebooffical's : This is the reason why this khaid of a artist will never be recognized, he always trying to push a narrative of being of Gy around SM, there was a time he tried to kiss Sydney on the mouth… @khaidxr you're a disgsiting piece of work and you will never be recognized🤮🤮🤮.
remi_daevess: 😂😂😂😂.