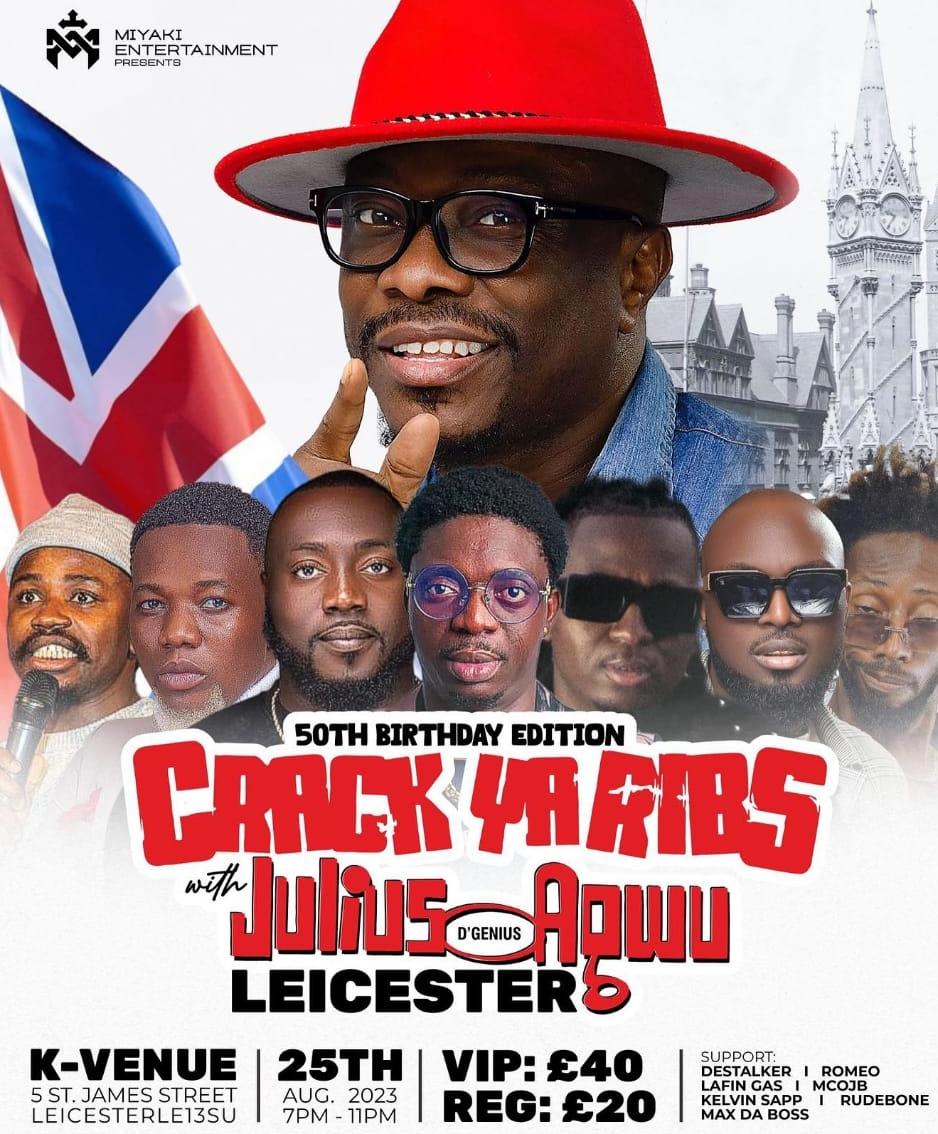 Crack Ya Ribs Live with Julius D'Genius Agwu | Leicester 2023
Mark your calendars for Friday, August 25th, 2023, as we gather at the prestigious K-Venue in Leicester for an evening that promises to leave you in stitches, an unforgettable night of laughter, entertainment, and pure comedic genius!
Prepare to be amazed as Julius D'Genius Agwu, the renowned and incredibly talented comedian, takes the stage. Known for his hilarious jokes, impeccable timing, and unique storytelling ability, Julius is guaranteed to have you laughing till your cheeks hurt. Get ready for a night of non-stop laughter as he shares his comedic gifts and brings smiles to faces of all ages.
But the fun doesn't stop there! Crack Ya Ribs Live will also showcase a lineup of exceptional comedians and performers, each bringing their own style and humor to the stage. From side-splitting stand-up acts to jaw-dropping comedic sketches, this event promises a variety of entertainment that will keep you engaged from start to finish.
K-Venue, located at 5 St. James Street, Leicester, LE13SU, sets the perfect stage for this exciting event. With its spacious and vibrant atmosphere, it provides an ideal setting for an evening of laughter and good times. Whether you're a comedy enthusiast or simply looking for a night of entertainment, K-Venue is the place to be on August 25th.
Tickets are now available for purchase on our website www.afrobeatsglobal.com or click here to book now. Don't miss your chance to secure your spot for this highly anticipated event! Get your tickets early to avoid disappointment and ensure you don't miss out on witnessing the magic that awaits.
For those interested in making reservations, feel free to contact us at +447958183139 or +447404304921. Our dedicated team is ready to assist you and ensure a seamless and enjoyable experience from start to finish.
So, get ready for an unforgettable night of laughter, camaraderie, and pure entertainment at Crack Ya Ribs Live with Julius D'Genius Agwu. It's an event that promises to bring joy and laughter to every attendee.
Don't wait – secure your tickets now and join us for an evening that will leave you with memories to last a lifetime. We can't wait to see you